Interiors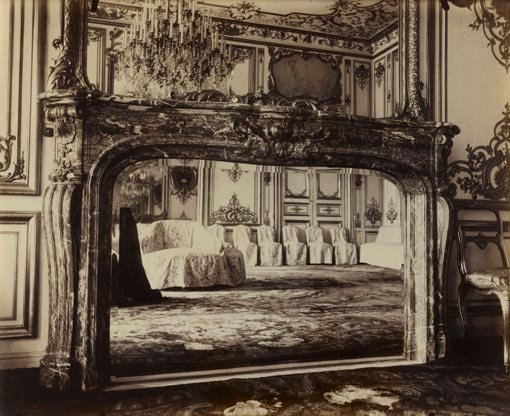 As well as selling individual photographs by the thousands, Atget created albums. The Musée Carnavalet acquired an album assembled and bound by him and registered on 27 August 1910 as Artistic, picturesque, and bourgeois Parisian interiors at the start of the 20th century. This album groups together different social classes by profession, moving from the worker to the realtor, the collector to the decorator, the person of independent means to the milliner.
Atget photographed apartments without their occupants, although the personalities of the latter are nonetheless present, whether through the noticeable wear and tear on the furniture or the arrangements of the living rooms and bedrooms. Some photographs in this typological series are of Atget's own apartment, masked with a hidden identity and a different address. At the end of the album he placed the interiors of his apartment side by side with that of the great actress Cécile Sorel, star of the Comédie-Française – a juxtaposition by which he perhaps wished to signal his admiration for the woman whose theatrical success was uncontestable, unlike his own (Atget studied acting as a young man and had worked as an actor).
Focus work
Eugène Atget
Fireplace, Hôtel Matignon, former Austrian embassy, 57 rue de Varenne, 7th arrondissement 1905
K-6 activities
Look closely at this photograph and describe the grandeur of the room. Who would use such a space? What would they do in it? Write a short play with this interior as the backdrop to the action. Use the mirror as a pivotal part of the play. Cast and direct the play and perform it in class.
Create an artwork of an interior that includes both a reflection in a mirror and yourself in the scene. Be creative and surprise the viewer. How does the reflection make the image more interesting?
7-12 issues for consideration
Describe the type of house this room is in. Why did Atget choose to photograph a room through the reflection in a mirror? How does this add meaning to the work? In what ways is this work a good example of Atget's art practice?
The black drapery on the left of the reflection is part of Atget's camera apparatus. Does this inclusion make the image more personable? How do other photographers add a sense of self to their images? Compare their approaches to Atget's. Take a photograph, including yourself in the scene. Exhibit your work in class and note the audience's responses.