Gardens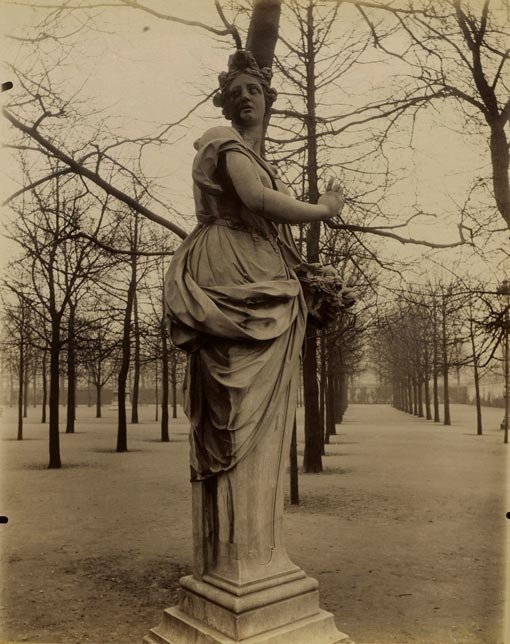 Nature was an important theme in Atget's work and one of his earliest subjects. He began photographing trees and plants in the 1880s and frequently photographed gardens. He was more interested in the domesticated than the wild. At the Luxembourg and Tuileries gardens he was as likely to compose genre scenes with children attending the puppet theatre, as he was to make views with vases and statues.
In 1914 he became interested in parc Delessert at Passy, a veritable oasis of nature within an urban centre. Marked for destruction, the garden was immortalised by Atget in images composed with a refined sensibility for light. The images extend beyond the documentary to make a formal statement on this specific place.
Focus work
Eugène Atget
'Spring', by sculptor François Barois, jardin des Tuileries, 1st arrondissement 1907
K-6 activities
Describe what you can see in this photograph. What do you think Atget wants us to focus on? Visit parks and public spaces in your neighbourhood and find examples of public sculptures. What are they for? Do they commemorate anything special? Do they enhance the public space? Imagine you have been asked to design a public sculpture for your school. What will you create that represents your school and complements the building and grounds?
Find out about the famous gardens and parks of Paris. Document them in a visual diary. Find images of them and works of art by artists who have been inspired to paint or draw them. Plot the size and position of the parks and gardens on a map and consider why green spaces are an important component of city design.
7-12 issues for consideration
Consider the form and composition of this image. Using this analysis, develop a series of photographs of a local garden. What role does this garden play in your area? What makes it significant?
Research Atget and discuss why his art practice was better suited to images of domesticated rather than wild nature. Develop a series of works showing variations on these subjects.