Atget and the Man Ray album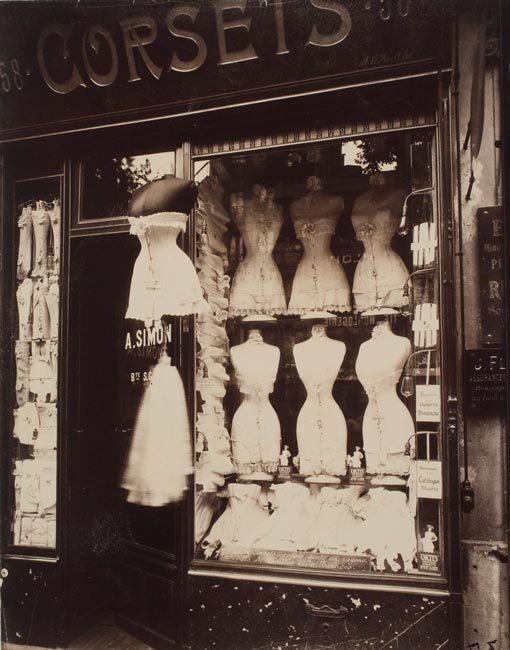 Atget's address book, conserved at the Museum of Modern Art in New York, contains an impressive list of clients, including artists and artisans, as well as history and decorative-arts enthusiasts. Important members of the avant-garde – such as Georges Braque (1882–1963), Maurice Utrillo (1883–1955) and Man Ray – also purchased Atget's work, although their names are not in this book.
Man Ray lived on the same street as Atget in Paris: rue Campagne-Première in Montparnasse. Man Ray probably discovered Atget when the latter visited his studio and showed him his work. Man Ray purchased a number of the photographs and shared them with his artistic circle, including the American photographer Berenice Abbott (1898–1991).
The photographs exhibited here were bought from Man Ray in 1952 by Beaumont Newhall (1908–93), then curator at George Eastman House, International Museum of Photography in Rochester, New York. An album was included as part of the acquisition, although there is no evidence to suggest that the photographs were ever actually fixed into it and the album is now empty. All the photographs in this exhibition are the original photographs, made by Atget.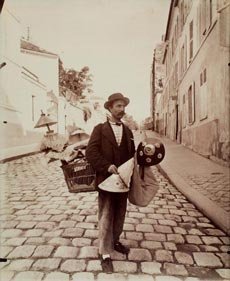 Focus works
Eugène Atget
Boulevard de Strasbourg 1912
Marchand d'abat-jour, rue Lepic 1899-1900
K-6 activities
Look closely at the photograph of the shop window (left). Notice how it reflects the view across the street. Describe the display of the corsets. Does it entice the customer in to buy in the shop? Compare this window display to shops in your neighbourhood. Are there any similarities? Imagine you have been asked to design an eye-catching display for a local shop. Draw your design and the types of objects you will display.
This photograph (above) shows a man selling lampshades. Observe how he manages to carry and balance so many of his wares at once. What would make this job challenging? Invent a new way of transporting the lampshades that would overcome some of these challenges, yet still be affordable for the vendor.
7-12 issues for consideration
Research Man Ray's art practice and compare his approach to Atget's. In your opinion, what compelled Man Ray to Atget's images?
Atget's images had a significant influence on the Surrealists. Research Surrealist photographers and, in response to Atget's body of work, create a series of photographs with Surrealist qualities. Write a short rationale for the motifs you have used.