About Atget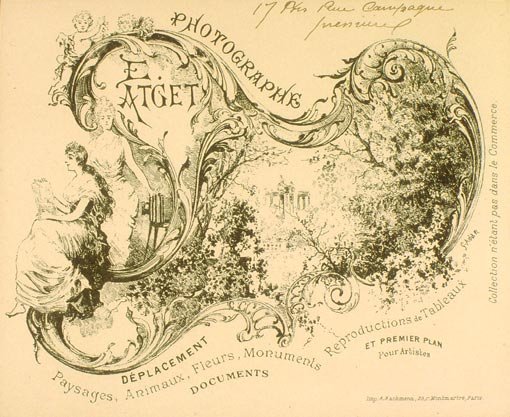 Jean-Eugène-August Atget was born in 1857 at Libourne (Gironde) to Jean-Eugène Atget, a coachbuilder, and Clara-Adeline Hourlier. He was raised by his grandparents after his parents died in 1862.
In his youth, Atget worked on ships sailing to Africa and South America. An aspiring actor, he settled in Paris in 1878. He gained entry to the Conservatoire national de musique et d'art dramatique on his second attempt in 1879 but failed to pass the exams in 1881 and spent the year doing military service in Tarbes (Pyrenees).
Returning to Paris, he published four issues of a satirical paper Le flâneur (The dandy), which includes some of his drawings. He also played minor acting roles in theatre productions in the suburbs of Paris and provincial France and moved in artistic circles. In 1886, he met the actress Valentine Compagnon who remained his life partner until her death in 1926.
His earliest photographs were taken in the rural region of Somme in the north of France, prior to his permanent relocation to Paris in 1890 where he established his commercial operation. A calling card produced soon after stated what he had to offer: images of 'landscapes, animals, flowers, monuments, documents, foreground studies for artists, reproductions of paintings. Collection not for general sale'. However, Atget's working methods differed from typical photographic businesses of the time with similar specialisations. He is not known to have had any assistants, shunned publicity, never exhibited in his lifetime and rarely took commissioned assignments. The peculiarities of Atget's practice are even more striking when one considers the overall context of photography at the time he entered the field.
K-6 activities
This is Atget's calling card (left). What is a calling card? What should it reflect about the person it represents? List all the things you can see on Atget's card. What do they tell us about him? Describe how the words and images work together to make the design.
Compile a list of things that are important to you; it could include objects, people, ideas and issues. Use your list to create a design for your own calling card that reflects your interests and passions. Make copies of your card and hand them out to your classmates. Discuss if your card successfully communicates your ideas.
7-12 issues for consideration
The first time I saw photographs by Eugène Atget… their impact was immediate and tremendous. There was a sudden flash of recognition – the shock of realism unadorned. The subjects were not sensational, but nevertheless shocking in their very familiarity…
Consider this 1964 quote by American photographer Berenice Abbott. Why would subjects that were not sensational have such a tremendous impact on her? How can familiarity be shocking? Debate the role Atget's art practice has played in understanding Paris.
Atget did not label himself as an artist; in fact he shunned publicity and never exhibited in his lifetime. How does this differ from an artist's approach? In what way did Atget's approach affect the way he created his images? Does it also affect the way today's audiences view his work?