Sydney moderns
Have fun exploring the Sydney moderns exhibition and make some art of your own
Nearly 100 years ago Sydney was a much quieter place with few cars, no tall buildings and no big shopping centres. Around the world things began to change – people moved to the cities, cars filled new roads, buildings got bigger and taller, and new department stores attracted shoppers. Sydney became a bustling city and the building of a bridge to join one side of the harbour with the other was celebrated around the world for its giant span of steel. This exhibition celebrates the artists who responded to the new city with new ideas and colourful, light-filled artworks.
All the works in this trail are in the Art Gallery of NSW collection.
Works in this children's trail
About our children's trails
Our children's trails are available online or as free printed booklets/sheets at the Gallery. They are designed to engage young children aged 6-12 with selected objects and images in the Gallery and our exhibitions. They present looking and interpreting, drawing and writing activities for children to do in front of the art with extension ideas for activities away from the Gallery.
Many of these suggestions can be adapted for use at home or in the classroom, even if you can't visit or the particular artworks are not on display.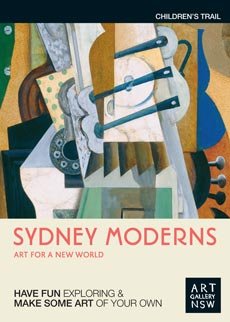 Download Sydney moderns childrens trail as PDF (PDF 642.3 KB)
Sydney moderns: art for a new world
6 Jul – 7 Oct 2013