Pop to popism
Have fun exploring Pop to popism and make some art of your own.
The pop art movement began about 50 years ago, at a time when television was still fairly new and advertising was becoming a major part of everyday life. Many young artists wanted to reference this new image-filled world in their art. Soup cans, magazine ads and pictures of famous people – things that had never before been considered artistic subjects – became important. Popular culture was their inspiration. Even the name – 'pop art' – comes from 'popular culture'. Take a look at how the artists in this exhibition have used images from pop culture and think about what their art tells us about our world.
Works in this children's trail
About our children's trails
Our children's trails are available online or as free printed booklets/sheets at the Gallery. They are designed to engage young children aged 6-12 with selected objects and images in the Gallery and our exhibitions. They present looking and interpreting, drawing and writing activities for children to do in front of the art with extension ideas for activities away from the Gallery.
Many of these suggestions can be adapted for use at home or in the classroom, even if you can't visit or the particular artworks are not on display.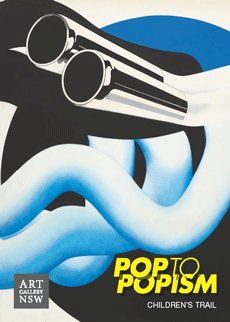 Pop to popism children's trail (PDF 4.1 MB)
Pop to popism
1 Nov 2014 – 1 March 2015