Grand Courts
Have fun exploring the art in our 19th-century Grand Courts and make some art of your own.
Printed copies of this trail are no longer available at the Gallery. However, you can still download and print the trail.
The artworks in our Grand Courts are changed from time to time. To find out if a particular work in this trail is currently on display, check works on display
About our children's trails
Our children's trails are available online or as free printed booklets/sheets at the Gallery. They are designed to engage young children aged 6-12 with selected objects and images in the Gallery and our exhibitions. They present looking and interpreting, drawing and writing activities for children to do in front of the art with extension ideas for activities away from the Gallery.
Many of these suggestions can be adapted for use at home or in the classroom, even if you can't visit or the particular artworks are not on display.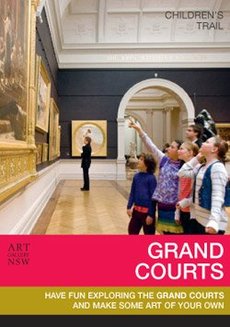 Download Grand Courts children's trail (PDF 451.1 KB)