America: painting a nation
Have fun exploring the exhibition America: painting a nation and make some art of your own.
You probably already know quite a bit about America from TV and movies, but this may be the first time you have seen American art.
Artists had to decide how they wanted to show their developing nation – its land and its people. This exhibition will take you on a journey through time, watching the American landscape change and cities grow. You will see the sorts of clothes people wore, how they behaved, how they travelled and what they did in their spare time. You will also see how the new colonists were establishing their own American way of life that suited their new country.
Works in this children's trail
About our children's trails
Our children's trails are available online or as free printed booklets/sheets at the Gallery. They are designed to engage young children aged 6-12 with selected objects and images in the Gallery and our exhibitions. They present looking and interpreting, drawing and writing activities for children to do in front of the art with extension ideas for activities away from the Gallery.
Many of these suggestions can be adapted for use at home or in the classroom, even if you can't visit or the particular artworks are not on display.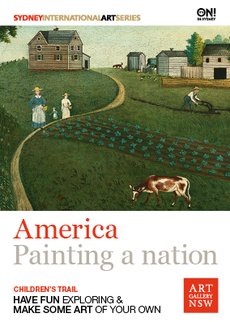 Download America children's trail as PDF (PDF 3.3 MB)
America: painting a nation
8 Nov 2013 – 9 Feb 2014