Aquarium
Find this bronze basin.
The fish in this basin would have moved and shimmered once, as their fins and tails could flutter in water. Wires and weights would have been attached underneath to create movement.
Observe how the fins and tails are raised above the surface of the basin.
Notice the colour of the basin. It is made of bronze so it would have been a shiny, golden brown when it was new, but now it has aged and become green.
Spot the head of Medusa, a Greek monster in the centre. Medusa had the head of a woman and snakes for hair. Images of her head were used to frighten away bad things.
Draw a picture of Medusa frightening something away.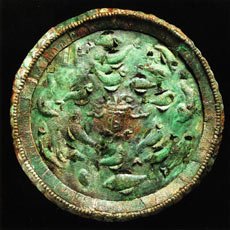 At home
At home create a fish, or other animal decoration that has moving parts.