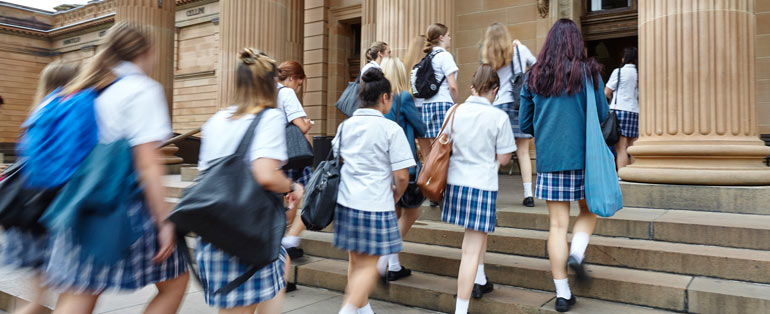 Prepare for your visit
Before your visit
We've compiled answers to some of the most commonly asked questions.
What should teachers bring?
Your email confirmation from the Gallery with all your excursion details plus pencils for all students.
What should students bring?
Only a small bag with perhaps their lunch
Where can we eat?
There are limited food outlets in the area and we recommend that your students bring their lunch and eat across the road in the Domain. There are no designated areas if the weather is wet. No food or drink is allowed in the general areas of the Gallery.
How do we get to the Gallery?
See Getting here. Drop-off and pick-up zones for private buses are located in front of the Gallery. There is no street parking for buses nearby.
What student:teacher ratios does the Gallery advise?
Years K-6, pre-schools, home schoolers – Serviced 8:1 / Self-guided 10:1
Years 7-12 – Serviced and self-guided 15:1
Tertiary – Serviced 20:1 / Self-guided 60:1
How can teachers prepare students?
Teachers will be responsible for their groups at all times during their Gallery visit so ensure your students have been briefed on appropriate behaviour, including respecting artworks and using only pencils within the Gallery.
What else can teachers do to prepare?
Check out the Gallery's free online learning resources.
Take a look at the Gallery's floorplan. Toilets are located on the upper level, lower level 1 (two sets) and lower level 3. From the ground-floor entrance, the closest toilets can be accessed via the stairs behind the information desk – down or up one level.
Consult the information we provide on risk assessment
On the day
Check you've brought your confirmation email plus pencils for all students.
Plan to arrive at least 15 minutes before your scheduled time.
If you're running late, call 02 9225 1740.
On arrival, look for the 'teacher check-in' at the Gallery's main entrance, where one of our Gallery hosts will confirm your visit and schedule and provide information such as how to cloak your bags.