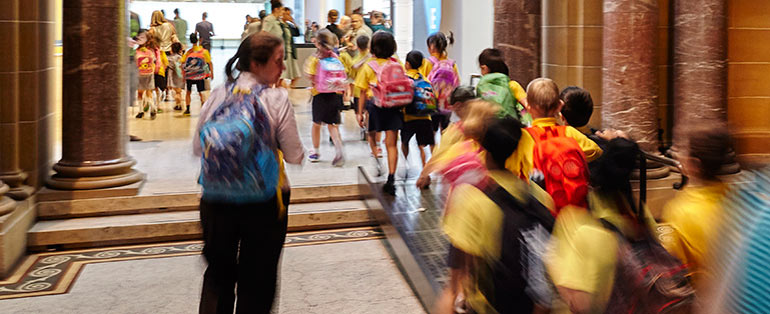 Booking your visit
From 1 June 2020, the Art Gallery of NSW is open to limited numbers of visitors using a timed-entry ticket system. However, NSW Government restrictions are still in place for school excursions.
1. Make an online booking request.
2. Receive a booking confirmation email.
3. Pay for your excursion if there are charges.
4. Prepare for your visit.
Make a payment
Direct deposit
Westpac Banking Corp, BSB 032001, Account no 101096
Quote your invoice number
Credit card
Mastercard, Visa or American Express
Tel 02 9225 1740
Cheque
Make cheques payable to 'Art Gallery of New South Wales' and send to:
Learning & Participation Office
Art Gallery of New South Wales
Art Gallery Road, Sydney NSW 2000
---
Changes and cancellations
Must be made in writing by emailing education@ag.nsw.gov.au
Including adjustments to student numbers, dates and times
One change up to four weeks before the scheduled booking – no cost
Each additional change – $30 administration fee
Changes/cancellations within five working days of scheduled booking – original booking charged in full
In 2020 we will be implementing a new booking system to better meet the needs of education groups. Please bear with us while this exciting change takes place.
Enquiries
For complex bookings or more information
Learning & Participation Office
9am – 5pm
Monday – Friday
Tel 02 9225 1740
education@ag.nsw.gov.au
Mailing address:
Learning & Participation
Art Gallery of NSW
Art Gallery Road
NSW 2000