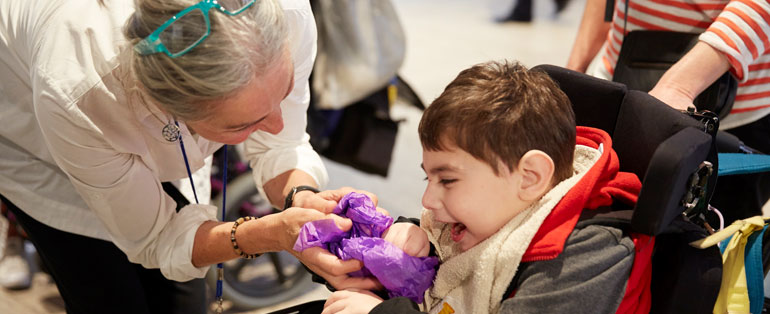 Starting with art
Starting with Art is for Years K-12 students with physical, intellectual, behavioural and sensory disabilities. Each program is led by an artist educator and designed to create a journey of discovery and adventure through the Art Gallery of NSW's collection.
The program provides the opportunity to look closely, discuss ideas, engage in role-play and use sensory materials to develop personal connections to art works.
Benefits for students
Provides an opportunity to:
engage directly with artworks
express themselves in a supportive environment
learn through visual and sensory experiences
build on the knowledge they have
create works of art with materials that are familiar and fun to use
build self-esteem
feel welcomed in the Gallery
Supporting resources
Pre- and post-visit activities are incorporated into this program. Pre-visit activities, including a viewing of the selected images before the visit, aim to provide students with preliminary familiarity and understanding of the works, which will enhance the exhibition experience.
Exhibition-specific tours
The Gallery also offers Starting with Art tours and workshops for some specific exhibitions.
Program details
60-min duration
Free
Two weeks notice required
Bookings essential
Starting with Art at the House
A partnership between the Sydney Opera House and the Art Gallery of NSW, this stimulating and engaging program for Years K-12 includes discussion, role-play and the use of sensory materials.
Start with a visit to the Gallery's Starting with Art program supported by Variety to view a selection of artworks inspired by Sydney Opera House and Sydney Harbour.
Follow with a tour of the Opera House to discover how the iconic building and harbour influenced these artworks.
Program details:
Full day
Free
Max 8 students per group
Two weeks notice required
Bookings essential