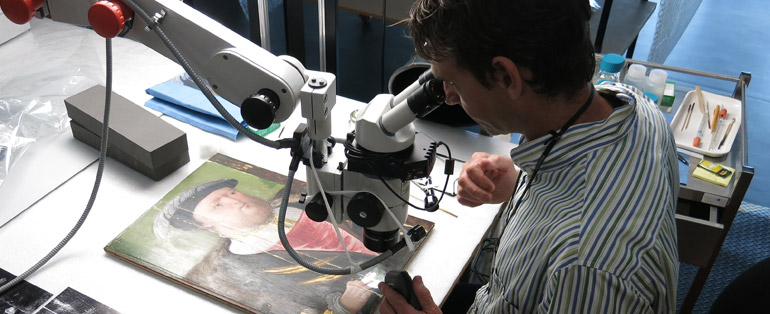 Conserving our collection
Time changes the condition of all things, including works of art.
At the Gallery, we aim to safeguard artworks for the future by preventing, slowing down, remedying or reversing decay and damage.
To do this, our conservators use their knowledge of how individual artworks are constructed and the potentially destructive effects of elements such as light, temperature, relative humidity, dust, insects, vibration and vandalism. They develop specific treatments for oil paintings, watercolours, prints, drawings, photographs, scroll paintings, picture frames, mixed media works and indoor and outdoor sculptures, among other objects. New materials, technologies and mediums present constant challenges, particularly in contemporary art.
Sometimes we carry out preventive conservation to ensure artworks are safely displayed, stored or transported. At other times, we carry out remedial conservation, stopping or reversing some of the effects of deterioration and damage.
Before starting remedial conservation, we carefully document the artwork's condition. We might use microscopy, x-ray or infra-red photography, which also helps us understand how the artist created the work.
We preserve an artwork by controlling its environment and use, but sometimes this is not enough for an artwork to 'speak' as the artist intended. In these cases, we might restore the artwork by reconstructing missing or damaged areas so as to represent its intended state.
Most of the conservation treatment we undertake is unobtrusive. It often occurs as we prepare artworks for exhibition.