Aboriginal and Torres Strait Islander art
View More:
---
Title
The Thunder Spirits (Birimbira)
---
Artist
Muŋgurrawuy Yunupiŋu
Australia
circa 1907 - 12 Apr 1979
Language group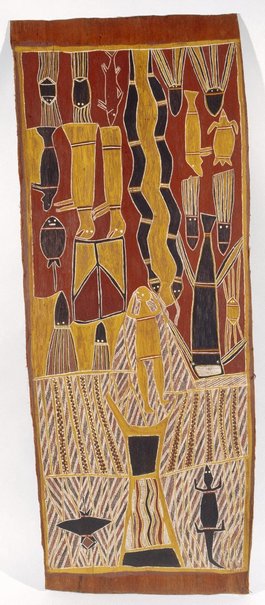 ---
About
Biranybirany on Caledon Bay is the ancestral Country for the three branches of the Gumatj clan, and is home to the major Gumatj totems: Baru (saltwater crocodile) and Gurtha (fire). It is also the homeland of the Yunupiŋu family. In 1959 – when Muŋgurawuy Yunupiŋu painted the Gumatj ancestral fire story on four large barks – he was ceremonial leader, custodian of knowledge and keeper of the law for the Gumatj clan of the Yirritja moiety in north-east Arnhem Land.
In 'The Thunder Spirits (Birimbira)', 1961, Muŋgurawuy shows the Gumatj ancestors as two black serpents shooting bolts of lightning. The Ancestor, Yumbulbul, is depicted revelling in the rain from a thundercloud below, with its black centre outlined in yellow and containing wavy lines representing rain. The top section of the painting reveals the different species of marine creatures that emerge after the rain. The miny'tji surrounding the stingray and the crocodile symbolises the sea.
'Lany'tjung story (Crocodile and Bandicoot)', 1959, depicts the story of the Ancestral fire that burnt across a huge swathe of eastern Arnhem Land, from Biranybirany to Melville Bay. During a ceremony near Caledon Bay, the fire on the ceremonial ground flared up, out of control, and raged northwards. Above this scene, Muŋgurawuy includes two images of Baru, making the association with the historical fire that caused the distinct markings on crocodiles' backs.
The patterns of diamond-shaped miny'tji (sacred clan designs) at the top left of the painting allude to Muŋgurrawuy's preoccupation with a missing canoe at the time he made this painting. By including this event with the Ancestral story, he shows the relationship between the Ancestral past and the present. Below this panel, Muŋgurawuy has painted a bandicoot running from one hollow log to another, showing that the bushfire has burnt itself out. The diamond shapes in this section represent flames and ashes, a swamp fire, leaves and grass aflame, sandbanks, a creek, footprints and seaweed, which are all depicted in different configurations of miny'tji.
Muŋgurrawuy assisted Birrikitji Gumana and Narritjin Maymuru in painting the Yirritja church panels now housed in the Buku-Larrŋgay Mulka Museum at Yirrkala. He painted Yirritja designs on a bark petition presented to Federal Parliament in 1963, which outlined Yolŋu grievances over the intrusion of mining interests in Arnhem Land. Muŋgurrawuy's children particularly Gaymala, Galarrwuy and Mandawuy Yunupiŋu – have also distinguished themselves as Yolŋu leaders in politics and the arts.
Ken Watson in 'Tradition today: Indigenous art in Australia', Art Gallery of New South Wales, Sydney, 2004
© Art Gallery of New South Wales
---
Details
---
Other Title
Birimbira (The thunder spirits)
---
Media category
---
Materials used
natural pigments on bark
---
Dimensions
150.2 x 60.4 cm (irreg.)
---
Signature & date
Not signed. Not dated.
---
Credit
Gift of Dr Stuart Scougall 1961
---
Accession number
IA19.1961
---
Place
Where the work was made
Yirrkala
---
Shown in 6 exhibitions
Exhibition history
---

Purchases and Acquisitions for 1961, Art Gallery of New South Wales, Sydney, 04 Apr 1962–25 May 1962

Gamarada, Art Gallery of New South Wales, Sydney, 15 Nov 1996–16 Feb 1997

Bulada, Art Gallery of New South Wales, Sydney, 23 Aug 1997–14 Dec 1997
---
Referenced in 4 publications
Bibliography
---