View More:
---
Title
The fight: St George kills the dragon VI
---
Artist
Sir Edward Coley Burne-Jones
England
28 Aug 1833 - 17 Jun 1898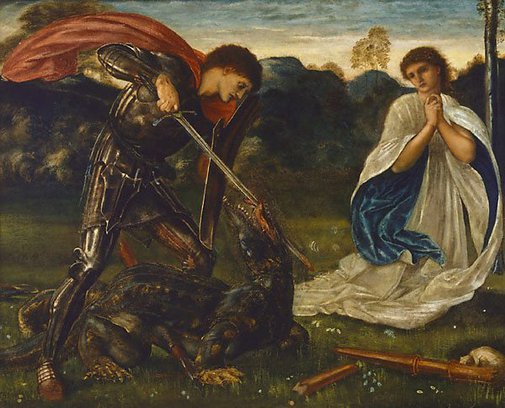 ---
About
More commonly an excuse for high drama and dynamic design, the legend of St George inspired in Edward Burne-Jones a typically lyrical response. This image presents the viewer with something akin to a dream. The knight is hardy enough, dispatching his beastly (but undernourished) enemy with assurance; yet this St George is a creature of the mind. The blurry 'sfumato' of the forms - Burne-Jones had yet to perfect his brittle manner - and the elegance of the poses encourage reverie, not alarm. Burne-Jones was the least ideological of the Pre-Raphaelites, yet the most enduring, always keeping faith with a moonlit world of bloodless damsels and epicene saints. Henry James called the Burne-Jones type 'pale, sickly and wan'. No progressive, the English artist loathed the impressionists, preferring their symbolist contemporaries, whom he admired and greatly influenced.
AGNSW Handbook, 1999.
---
Details
---
Other Title
The fight: St George killing the dragon VI
---
Media category
---
Materials used
oil on canvas
---
Dimensions
105.4 x 130.8 cm stretcher; 166.0 x 175.6 x 19.0 cm frame
---
Signature & date
Signed and dated l.l., black oil "EB-J / 1864".
---
Credit
Gift of Arthur Moon KC in memory of his mother, Emma, born in Sydney in 1860, the daughter of John de Villers Lamb 1950
---
Location
---
Shown in 13 exhibitions
Exhibition history
---
Provenance
---
Myles Birket Foster, 1864-1894, Surrey/England, Series commissioned in 1864 for the dining-room of Foster's house at 'The Hill' at Witley, Surrey. Series sold at Birket Foster's sale 1894 for 2,100 gns.
C. Sidney Goldmann, 1898, England, In the collection of C. Sidney Goldmann by 1898, with some others of the series.
Christie's London, 26 Apr 1902, London/England, Purchased by Agnew's for Sir Ernest Moon
Sir Ernest Moon, 26 Apr 1902-1930, Oxfordshire/England, Braziers park, Ipsden, Oxfordshire
Arthur Moon, KC, 1930-1950, England, Gift of Arthur Moon 1950
---
Referenced in 21 publications
Bibliography
---
Art Gallery of New South Wales, Art Gallery of New South Wales picturebook, Sydney, 1972, col illus p 27.
Russell Ash, Sir Edward Burne-Jones, London, 1993, col illus back page.
M. Bell, Burne-Jones, 1898, p 36.
Lady Georgiana Burne-Jones, Catalogue of Drawings, 'Memorials of E B-J', Birmingham, 1939, pp 296-7.
John Christian, Art Quarterly, 'Early German Sources for Pre-Raphaelite Designs', 1973, p 78. fig no 29, fig no 30
Patricia Crawford, History and legend in some selected paintings at the Art Gallery of New South Wales, Sydney, 1980, illus p 14.
F. de Lisle, Burne-Jones, 1904, pp 75-77.
Renée Free, Art Gallery of New South Wales handbook, 'European', pp 36-56, Sydney, 1988, p 44.
Renée Free, Art Gallery of New South Wales catalogue of British paintings, Sydney, 1987, illus p 26, p 27.
Matthias Frehner, Edward Burne-Jones: The earthly paradise, 'St George and the dragon 1865-67', pp 51-65, Stuttgart, 2009, p 61, col illus p 62. fig.20, illustrated in reference to cat no 34
Galleria Nazionale d'Arte Moderna, (Burne-Jones), Rome, 1986. cat no 15
Martin Harrison and Bill Waters, Burne-Jones, New York, 1973, p 89.
Marcus B. Huish, The Art Annual, London, 1890, p 26.
Carol Jacobi and Lucina Ward (Editors), Love & desire. Pre-Raphaelite masterpieces from the Tate, Canberra, 2018, pp 40, 151, no 56, p 213, no 39, col illus p 150.
Bruce James, Art Gallery of New South Wales handbook, 'Western Collection: Paintings and Sculpture', pp 17-77, Sydney, 1999, col illus p 38.
Anne Kirker and Peter Tomory, British painting 1800–1990 in Australian and New Zealand public collections, Sydney, 1997, illus p 60. cat.no. 305
McLean's Gallery, (MacLean's Gallery Exhibition), London, 1895. contains verse by William Morris for each of the series
Peter Raissis, Prints & drawings Europe 1500-1900, Sydney, 2014, col illus p 149.
Jan Reynolds, Birket Foster, London, 1984, pp 97-99, p 176. Appendix no 8 including a photograph of the dining room at 'The Hill' with the painting in situ in another frame.
Angus Trumble (Curator), Love and Death: art in the age of Queen Victoria, Adelaide, 2001-2002, p 158, col illus p 159.
Art Gallery of New South Wales Quarterly, vol 4, no 1, Sydney, Oct 1962.