View More:
---
Artists
Pierre Drevet
France
1663 - 1738
after Hyacinthe Rigaud
France
1659 - 1743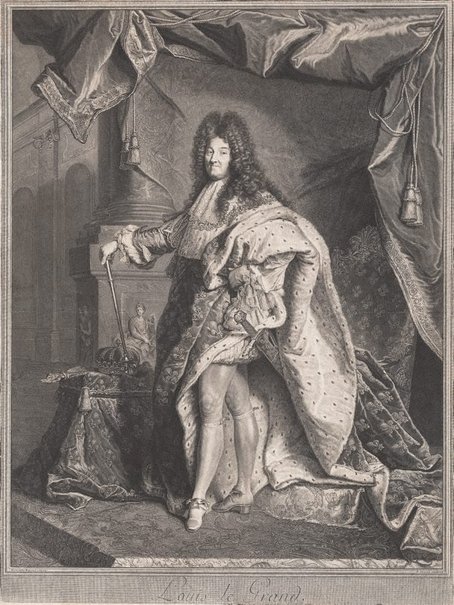 ---
About
This print reproduces the most recognised effigy of King Louis XIV, and one of the icons of Baroque royal portraiture. The prototype is Hyacinthe Rigaud's full-length painted portrait, which was commissioned in 1701 as a gift from Louis to his grandson, Philippe Duke of Anjou, who had been recently crowned as Philip V – the first Bourbon to rule as king of Spain. The portrait was such a success, however, that it was never dispatched to Madrid.
Rigaud's portrait represents the 63-year-old monarch in the splendour of his coronation robes: he wears an ermine-lined cloak embroidered with fleurs-de-lis, and around his neck the chain of the Order of the Holy Spirit; his hand rests on the sceptre, and from his side hangs the sword of Charlemagne; behind him on a stool are the French crown and the 'hand of justice'.
When the director of the king's buildings commanded that a printed replica be made of the portrait, the prestigious (and laborious) commission fell upon Pierre Drevet, the most esteemed reproductive engraver of his age. Drevet, in fact, never worked from Rigaud's original but copied it from a specially made intermediary drawing by Jean-Marc Nattier (now in the Phoenix Art Museum), which corresponds in size to the finished engraving. It is highly likely, however, that Rigaud, a close friend of Drevet's, took a keen, overseeing interest in the project.
Although this engraving is twice removed from Rigaud's portrait, it nonetheless faithfully reflects the sumptuous textures and details of the original, and stands as a testament to the heights of technical brilliance attained by French portrait engravers in the 18th century.
Peter Raissis, Prints & drawings Europe 1500–1900, 2014
---
Details
---
Media category
---
Dimensions
69.5 x 52.1 cm (trimmed to platemark)
---
Signature & date
Not signed. Not dated.
---
Shown in 3 exhibitions
Exhibition history
---
Referenced in 7 publications
Bibliography
---
Amboise Firmin-Didot, Les Drevet (Pierre, Pierre-Imbert et Claude): catalogue raisonné de leur œuvre, précédé d'une introduction, Paris, 1876, p 55.
Ariane James and Emmanuel Coquery, Visages du Grand Siècle: le portrait français sous le règne de Louis XIV, 1660–1715, Nantes, 1997, p 267. no 140
Mary O'Neill, Hyacinthe Rigaud's drawings for his engravers, Nov 1984, pp 681-82.
Peter Raissis, Le Grand Siècle, Sydney, 1997, illus cover, p 8. no catalogue numbers
Peter Raissis, Prints & drawings Europe 1500-1900, Sydney, 2014, col illus p 73.
Marcel Roux, Inventaire du fonds français, graveurs du dix-huitième siècle, 1949, vol 7, p 330. no 81
Wendy Symonds (Editor), Look, 'Le Grand Siècle', pg. 23, Heidelberg, Jul 1997, illus p 23.