View More:
---
Title
1946 (still life - Alice through the looking glass)
---
Artist
Ben Nicholson
England
10 Apr 1894 - 06 Feb 1982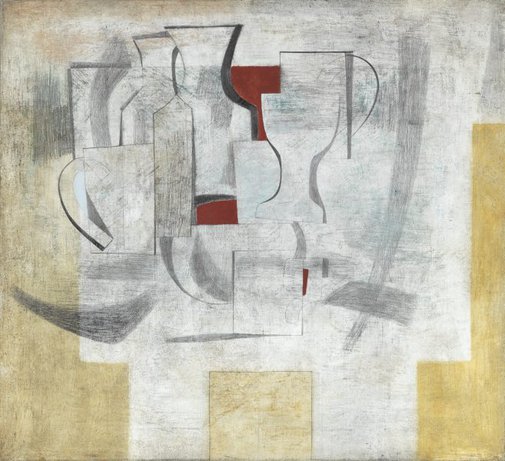 ---
About
The first thing the viewer notices about this painting is its graphic quality. With its dependence on pencil marks and pallid colours, it hardly seems painted at all. The artist organised his surface into clearly defined, overlapping shapes with little regard to depth or dimensional interplay. The illusionism which was once the mainstay of the oil-on-canvas technique has given way to its opposite, a kind of insubstantiality. Discoveries made by Picasso and Braque before 1914 inform this belated British example of cubism . Ben Nicholson painted his first abstract in 1924 and carved his first purist relief a decade later, though representational motifs occur throughout his career. His father was the Edwardian artist and illustrator, Sir William Nicholson, some of whose pictorial discretion he inherited. Painted near the famed enclave of artists at St Ives, Cornwall, this composition is as devoid of painterly excess and vulgar display as it is full of nuance.
AGNSW Handbook, 1999.
---
Details
---
Other Titles
Still life (Alice through the looking glass)
Still Life no. 6
---
Media category
---
Materials used
oil and pencil on canvas
---
Dimensions
68.6 x 76.2 cm stretcher; 91.1 x 99.6 x 6.5 cm frame
---
Signature & date
Not signed. Dated verso, "...1946".
---
Shown in 8 exhibitions
Exhibition history
---
Provenance
---
Alex Reid & Lefevre, Ltd., 1946, London/England
The British Council, 1949, London/England, Purchased by the AGNSW from the British Council 1949. Purchased from the exhibition 'Eleven British Artists' Australian State Galleries 1949.
---
Referenced in 13 publications
Bibliography
---
Art Gallery of New South Wales, Art Gallery of New South Wales picturebook, Sydney, 1972, 56 (colour illus.).
Emmanuel Bénézit, Dictionnaire critique et documentaire des Peintres, Sculpteurs, Dessinateurs et Graveurs de tous les temps et de tous les pays par un groupe d'écrivans spécialistes français et étrangers, Paris, 1953, 464 (illus.).
René Free, Art Gallery of New South Wales handbook, 'European', pg. 36-56, Sydney, 1988, 56.
Renée Free, AGNSW Collections, 'The Western Heritage, Renaissance to Twentieth Century', pg. 108-172, Sydney, 1994, 164 (colour illus.).
Renée Free, Art Gallery of New South Wales catalogue of British paintings, Sydney, 1987, 138 (illus.).
Ted Gott, Laurie Benson and Sophie Matthiesson, Modern Britain 1900-1960, Melbourne, 2007, 206 (colour illus.).
Bruce James, Art Gallery of New South Wales handbook, 'Western Collection: Paintings and Sculpture', pg. 17-77, Sydney, 1999, 63 (colour illus.).
Anne Kirker and Peter Tomory, British painting 1800–1990 in Australian and New Zealand public collections, Sydney, 1997, 139. cat.no. 1596
Ben Nicholson, Ben Nicholson, London, 1955, (illus.). Vol. 1, plate no. 173
Margaret Olley and Jeffrey Smart, Favourites: Margaret Olley and Jeffrey Smart selections, Sydney, 2002. No catalogue numbers; titled 'Still life'; Jeffrey Smart selection.
The British Council (Organiser), Eleven British artists, London, 1949, (illus.). cat.no. 26, listed as 'Still Life (No. 6)'
The British Council, Modern British Paintings, London, 1947. cat.no. 37
The Lefevre Gallery, (Ben Nicholson), London, 1946. cat.no. 70, listed as 'Still Life (6)'