View More:
---
Title
Buddha calling the Earth to witness (bhumisparsha mudra)
---
Artists
Unknown Artist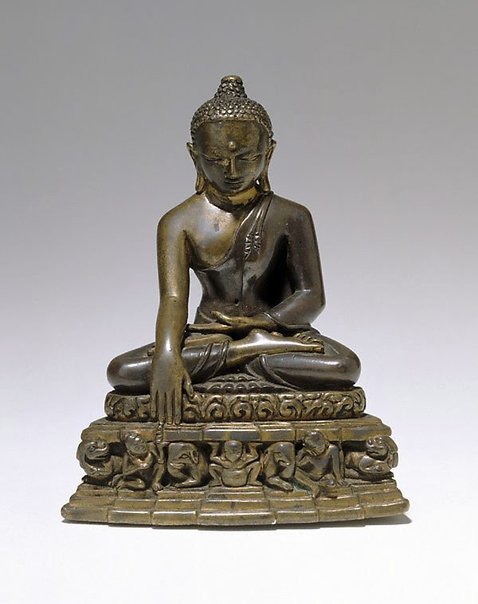 ---
About
Early Buddhist images from Burma have distinctive stylistic qualities that distinguish them from their South-east Asian counterparts. In Burmese Buddhism, which followed the Theravada path, the dominant figure is Akshobhya, represented here. In this characteristic pose the Buddha is seated with feet upturned, bearing wheel marks on his soles. A button-like protuberance on his forehead resembles the 'urna'. The left hand rests face up on the lap in the meditation 'mudra'; the right hangs with the tips of the outstretched fingers touching the ground in the 'bhumispara mudra'. With this gesture the Buddha invokes the earth to witness his resistance of the temptations of the spirit of evil, Mara.
---
Details
---
Other Titles
Figure of Buddha
Buddha on the lion throne
---
Media category
---
Materials used
copper alloy
---
Signature & date
Not signed. Not dated.
---
---
Shown in 4 exhibitions
Exhibition history
---
Provenance
---
Collection Beurdeley Matthews, London, Apr 1981, London/England, offered for sale in the exhibition 'Burmese art and its influences', April 1981, London.
Alex Biancardi, pre Apr 1997, Sydney/New South Wales/Australia, purchased by the Art Gallery of New South Wales, Sydney, 1997.
---
Referenced in 9 publications
Bibliography
---
Bruce James, Art Gallery of New South Wales handbook, 'Asian Collection: South-East Asia', pg. 298-301, Sydney, 1999, 299 (colour illus.).
Isabell Johne, Vasudhārā: A study of the origin, development, and diffusion of artistic representations of the Buddhist goddess of prosperity in their cultural contexts, Aachen, 2014, 150 (colour illus.). vol.2
Simon Matthews, Burmese Art and its Influences, London, 1981, 17 (illus.), 18. plate no. 15
Jackie Menzies, Arts of Asia, 'New Dimensions', pg. 54-63, Hong Kong, Nov 2003-Dec 2003, 60 (colour illus.). no.14
Jackie Menzies (Editor), Buddha: Radiant awakening, Sydney, 2001, 26 (colur illus.), 183. cat.no. 7
Jackie Menzies, Look, 'Asian Favourites', pg. 24-27, Sydney, Sep 2003, 24 (colour illus.).
Jackie Menzies (Editor), The Asian Collections Art Gallery of New South Wales, Sydney, 2003, 12 (colour illus.).
Jackie Menzies, TAASA Review, 'Art Gallery of New South Wales', Sydney, Mar 1998, 10 (colour illus.).
Wendy Symonds (Editor), Look, 'The Centre for Asian Art Studies', pg. 25, Heidelberg, Sep 1998, 25 (colour illus.).