View More:
---
Title
Portrait of Jan Lutma, goldsmith
---
Artist
Rembrandt Harmensz. van Rijn
Netherlands
1606 - 1669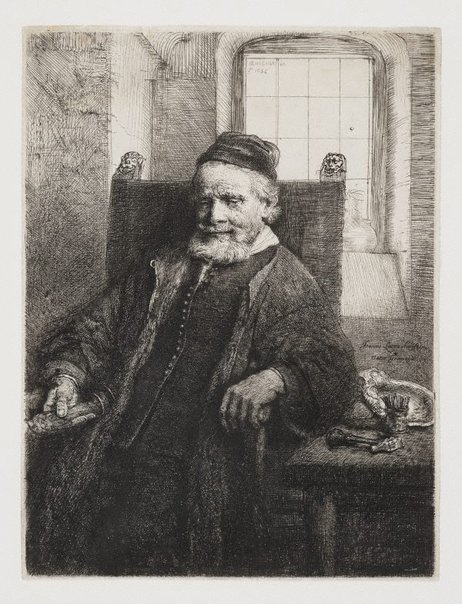 ---
About
Nearly all of Rembrandt's etched portraits portray subjects of his own choosing – family, friends, acquaintances and colleagues – rather than individuals with no personal connection who commissioned a likeness in the context of a straightforward commercial transaction. The profound humanity of Rembrandt's representations of individual men and women was reached by his searching observations of the face, and his portraits convince us that every one of his sitters is endowed with the capacity to feel.
The etchings of elderly people are especially touching, for as well as evoking specific emotions, the etching needle was particularly well equipped to render with minute precision the furrows that age and experience had worn in these faces. In his portrait of Jan Lutma, Rembrandt allows us a close view, at an angle, of a thoughtful old man wearing a simple cap. As we scrutinise his calm face more closely, we notice that Lutma meets our gaze with an absent look: beneath his heavy, wrinkled brow, his partly closed eyes signal that the elderly figure suffered from blindness, yet we nonetheless feel their warmth.
Rembrandt endows his portrait of Lutma with great dignity. The subject is seated in a large armchair adorned with carved lions' heads on the back. The portrait also identifies the occupation of the sitter by virtue of the surrounding objects. In his right hand Lutma holds a candlestick – a reference to his craft and one of his creations. Arranged on the table beside him are his instruments: a hammer and a pot containing punches, and immediately behind these, a chased silver drinking bowl. The latter is identifiable as a work of Lutma's, and a closely comparable example exists in the Rijksmuseum, Amsterdam. Rembrandt clearly respected Lutma as a master craftsman.
Jan Lutma (c1584–1669) was born in Emden, East Friesland. After a period spent in Paris he moved to Amsterdam in 1621 where he became a highly renowned silver and goldsmith working in the auricular style (so-called because of the resemblance of ornamental forms to parts of a human ear). He received numerous official commissions, most notably for the rood screen in the Nieuwe Kerk. His son, Jan Lutma the younger, was an etcher who probably worked for a period in Rembrandt's studio. His etched portrait of his father, made the same year as Rembrandt's, was undoubtedly inspired by the master's example.
This print is known in three states. The Gallery's impression is in the second state, showing Rembrandt's addition of the deep alcove and window behind the sitter. This state also includes the glass bottle sitting on the windowsill, and the artist's signature and date in the top-left pane. However, the engraved inscription to the right of Lutma's elbow is not in Rembrandt's hand.
Peter Raissis, Prints & drawings Europe 1500–1900, 2014
---
Details
---
Other Title
Jan Lutma, Goldsmith
---
Media category
---
Materials used
etching, drypoint and engraving
---
Dimensions
20.2 x 15.3 cm trimmed to platemark
---
Signature & date
Signed and dated u.c., [incised plate] "Rembrandt/ ... 1656".
---
Shown in 5 exhibitions
Exhibition history
---
Referenced in 12 publications
Bibliography
---
Clifford Ackley, Printmaking in the age of Rembrandt, 1981, p 203. no 137
George Biörklund and Osbert Barnard, Rembrandt's etchings: true and false. A summary catalogue, Stockholm, 1968, p 126. BB 56-C
Nicholas Draffin (Curator), The bitten image: European etchings from the collection, Sydney, 1980, p 7. no catalogue numbers
Arthur Hind, A catalogue of Rembrandt's etchings, 1923, p 116. no 290
Ludwig Munz, A critical catalogue of Rembrandt's etchings, 1952, p 69. no 77
National Art Gallery of New South Wales, Etchings by Rembrandt, Sydney, 1948. cat no 26
GW Nowell- Usticke, Rembrandt's etchings: states and values, Philadelphia, 1967, np B276.
Peter Raissis, Prints & drawings Europe 1500-1900, Sydney, 2014, p 64, col illus p 65.
Martin Royalton-Kisch, Erik Ger Luijten and Erik Hinterding, Rembrandt the printmaker, 2000, pp 332-37. no 83
Adam von Bartsch, Catalogue raisonné de toutes les estampes qui forment l'œuvre de Rembrandt, et ceux de ses principaux imitateurs, Vienna, 1797, pp 229-30. no 276
Christopher White and Karel Boon, Rembrandt's etchings: an illustrated critical catalogue, 1969, p 129. no 276
Christopher White, Rembrandt as an etcher: a study of the artist at work, London, 1999, p 160.