View More:
---
Title
Thea Proctor's tea party
---
Artist
Margaret Preston
Australia, England, France
29 Apr 1875 - 28 May 1963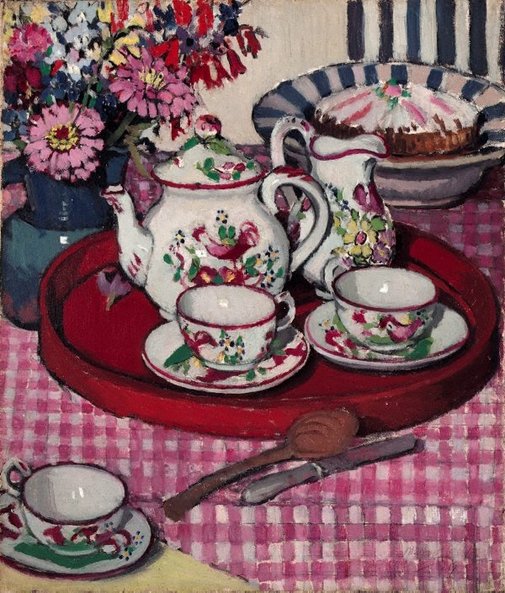 ---
About
In 1921 Thea Proctor returned to Australia after nearly 20 years' living in London and by 1923 was well established in her city studio in the Grosvenor Building at 219 George Street, Sydney. It was a thoroughly modern creation of colour accents set against white walls – 'notes of deep, sheer blue ... at intervals a high note of lemon-yellow, a glimpse of engine green through a white enamelled door, and on shelf and table hints of vivid Chinese lacquer red'. In Harold Cazneaux's photographs of the studio, two yellow lacquer tables stand centre-stage; on them are placed a Lunéville faience tea set on a red lacquer tray and two blue and white striped Portuguese plates 'of unusual shape and design. These objects are the ingredients from which Margaret Preston created the 1924 still life which she titled 'Thea Proctor's tea party'.
'Thea Proctor's tea party' belongs to the genre of still life, but it is also a kind of portrait. It is a symbolic rendering of the things that Thea Proctor stood for. Preston encapsulates her fellow artist's belief in the importance of surrounding one's self with objects of taste and beauty, and alludes to her enthusiasm for arranged flowers in domestic settings, something the two artists shared. And in giving the work its title, Preston drew attention to the way in which Proctor was as much a social figure as an artist, her studio as much a social space as a work place, where the ritual of the tea party had great importance (Proctor's students recall how classes in her studio always involved tea – not ordinary tea; in her later years the exotic Lapsang Souchong was her favourite).
In the 1920s Preston and Proctor were often seen as artists with similar approaches and modern ideals. Yet their outlook was never closer than in 1924–25. In 1925 the artists held two joint exhibitions, in Sydney and Melbourne. The Sydney exhibition was the occasion of a celebrated tiff between the artists. Although the story exists in various versions, it involves Preston throwing a cake at Proctor after discovering that the Art Gallery of New South Wales' Trustees had preferred Proctor's prints to her own. Given Proctor's genuine appreciation of Preston's work – describing her in 1927 as 'an artist with abundant vitality, unerring taste in selection, the intellectual gift of invention and an emotional colour sense which amounts to genius' – the 1925 incident has perhaps been given undue weight. Whatever the nature of the actual event, the anecdote survives because it dramatises the differences between the artists. Preston's frankness and egotism came face-to-face with Proctor's quieter belief in the qualities of her own art and the discernment of people of taste to whom her work was addressed. Bad manners faced off with gracious and long-suffering gentility. As with all such anecdotes, the incident allows for an over-simplification of the complexities of character. Proctor could be as outspoken and forthright as Preston and these qualities led to a significant cooling of her personal relationships with several artists besides Preston by 1929.
It is ironic that the only recorded public expression of personal difference between the two artists should centre upon the rituals of the tea party and that Preston's homage to the world of her contemporary, painted in the previous year, should be a picture of Thea Proctor's china and cutlery set out for just such an occasion.
There were also artistic differences between Preston and Proctor that became more pronounced in the years after 1925, the seeds of which, to some extent, are reflected in 'Thea Proctor's tea party'. Despite Preston's growing enthusiasm for native flora, it is perhaps significant that the flowers arranged for the painting are exotic – zinnias are prominent. Although in Proctor's words, Preston lifted 'the native flowers of the country from the rut of disgrace into which they had fallen', Proctor preferred European flowers and had none of the nationalist idealism that Preston associated with Australian subject matter. Quite the reverse; Proctor believed that locality was irrelevant when it came to making and judging the quality of art.
It was one of the great paradoxes of Thea Proctor's art that although its colour and design were seen as modern, its subject matter was often nostalgic, invoking earlier periods of elegance. In Proctor's world things could be valued for their intrinsic qualities alone – like a 19th-century tea set in the midst of a modern 1920s studio. Such a paradox would probably have worried Preston but was of no concern to Proctor. In 1938 when Proctor came to write a piece for 'Art in Australia' on modern art in Sydney, she chose to focus exclusively on the formal characteristics of the artists she discussed, their colour sense and their taste, and did not discuss subject matter at all. The one artist she did not discuss in the article, she excused with the sentence 'Mrs. Preston's work is already widely known'.
Andrew Sayers in Deborah Edwards and Rose Peel with Denise Mimmocchi, 'Margaret Preston', Art Gallery of New South Wales, Sydney, 2005
---
Details
---
Media category
---
Materials used
oil on canvas on hardboard
---
Dimensions
55.9 x 45.7 cm board; 63.5 x 56.0 x 4.9 cm frame
---
Signature & date
Signed and dated l.r. corner, pencil " Margaret Preston/ 24".
---
Shown in 9 exhibitions
Exhibition history
---

Cuisine and country: a culinary venture in Australian Art:

Sydney Moderns, Art Gallery of New South Wales, Sydney, 06 Jul 2013–07 Oct 2013

Destination Sydney, S.H. Ervin Gallery, The Rocks, 11 Dec 2015–21 Feb 2016

O'Keeffe, Preston, Cossington Smith: Making Modernism:
---
Referenced in 27 publications
Bibliography
---
Art Gallery of New South Wales, Art Gallery of New South Wales annual report 2006, 'Exhibition case study', pg. 16-19, Sydney, 2006, 17 (colour illus.).
Elizabeth Butel, Margaret Preston: the art of constant rearrangement, Ringwood, 1985, 35 (colour illus.), 85. cat.no. O.5
Katrina Cashman., Margaret Preston in Mosman, 'Margaret Preston in Mosman', Mosman, 2002, (colour illus.). not paginated; no catalogue numbers
Louise Chamberlin, Art In Sight, Sydney, 1996.
Cecily Davis, Women artists of Australia, Victoria, 1992, 28 (colour illus.).
Susanna de Vries, The complete book of great Australian women: thirty-six women who changed the course of Australia, 'Margaret Rose Preston', pg. 547-563, Pymble, 2003, 558.
Mary Eagle, Australian Modern Painting Between the Wars 1914-1939, 'Recall to order', pg. 78-91, Sydney, 1989, 81, 82 (colour illus.). plate no. 58
Deborah Edwards and Rose Peel, Margaret Preston: Catalogue raisonné of paintings, monotypes and ceramics, Sydney, 2005, (colour illus.). Artworks: paintings 1924.
Emma Glyde, Look, 'Tea and the art of good taste', pg. 22-23, Sydney, Sep 2012, 23 (colour illus.).
Sasha Grishin, The Canberra times, 'The Preston question', pg. 8-9, Ainslie, 25 Sep 2005, 9 (illus.). 'Relax' lift out from Sunday edition.
Deborah Hart, Grace Cossington Smith, 'A distinctive vision', pg. 26-55, Canberra, 2005, 36.
Stephanie Holt, Art and Australia (Vol. 33, No. 2), 'Woman About Town', Sydney, Summer 1995, 242, 243 (colour illus.).
James R. Lawson Pty Ltd (Organiser), Catalogue of a collection of valuable pictures... to be sold by auction at Merioola, 21 Rosemont Avenue, Woollahra...February, 1942... under instructions from and as directed by the Executors of the Will of the late Arthur Wigram Allen, Sydney, Feb 1942. cat.no.627
Anne Kirker, Brought to Light: Australian Art 1850–1965 from the Queensland Art Gallery collection, 'In the Cause of Modernism. Thea Proctor and Margaret Preston', pg. 124-127, Brisbane, 1998, 126 (illus.).
Lenny Ann Low, The Sydney Morning Herald, 'Once were palettes, little green droppings and some suspect dudes in suits..', pg. 14, Sydney, 05 Oct 2002, 14.
Hal Missingham, Art and Australia [series 5, vol. 1, no. 2], 'Margaret Preston', pg. 90-101, Sydney, Aug 1963, 97 (illus.).
National Art Gallery of New South Wales, Margaret Preston and William Dobell loan exhibition, Sydney, 1942, 8. cat.no.19
Ian North, The art of Margaret Preston, South Australia, 1980, 46 (illus.). cat.no. O.13
Andrew Sayers, Margaret Preston, 'Thea Proctor's Tea Party', pg. 72, Sydney, 2005, 113, 72, 73 (colour illus.).
Andrew Sayers, The world of Thea Proctor, 'Thea Proctor: artist and tastemaker', pg. 4-15, Canberra, 2005, 10-11, 49 (colour illus.), 60, 76, 179.
John Slater, Through artists' eyes: Australian suburbs and their cities 1919-1945, 'From bread to circuses: people at leisure', pg. 101-124, Melbourne, 2004, 112 (colour illus.). illus.no. 96
Terry Smith, Transformations in Australian art: The twentieth century - Modernism and Aboriginality [Volume Two], figure 2.3, St Leonards, 2002, 55, 54 (illus.).
Society of Artists, Society of Artists Annual Exhibition, Sydney, 1924. cat.no.110
Helen Topliss, Modernism and Feminism Australian Women Artists 1900-1940, Sydney, 1996, front cover (colour illus.), 160 (colour illus.).
Sydney Ure Smith and Leon Gellert (Editors), Art in Australia [series 3, no. 22], Sydney, Dec 1927, (colour illus.). not paginated
Sydney Ure Smith and Leon Gellert (Editors), Art in Australia [series 3, no. 9], Sydney, Oct 1924, (illus.). not paginated
Gavin Wilson, Cuisine & country: a gastronomic venture in Australian art, 'Cuisine & Country', pg. 9-66, New South Wales, 2008, 19, 21 (colour illus.), 88.