View More:
---
Artist
Bertram Mackennal
Australia, England, France
12 Jun 1863 - 10 Oct 1931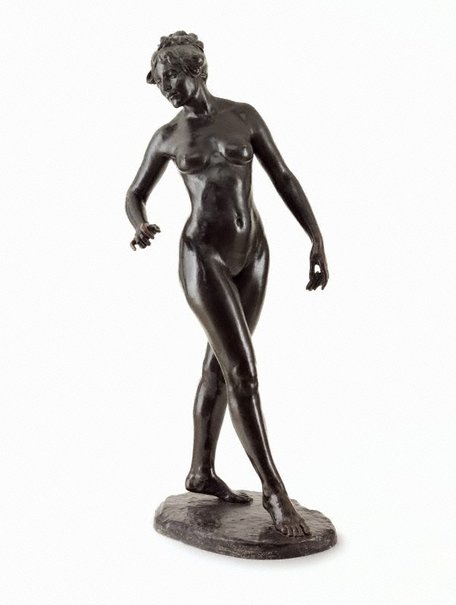 ---
About
Bertram Mackennal was one of the most successful Australian artists working internationally in the late 19th and early 20th centuries. His profile and performance in Britain, where he lived as an expatriate, substantially outshone that of his Australian peers such as Tom Roberts and Arthur Streeton. 'The dancer', acquired by the Art Gallery of NSW in 1910, was the first work by Mackennal to be purchased by an Australian public gallery (the National Gallery of Victoria bought his 'Circe' later the same year).
Mackennal was born in 1863 at Fitzroy, Melbourne. His first training was with his father, John Simpson Mackennal, a locally prominent architectural modeller and sculptor. This was followed by formal instruction at the National Gallery School of Design under OR Campbell from 1878. Mackennal left Australia for London in 1882, and was admitted to the Royal Academy schools as a sculpture student in late 1883.
After a short period, Mackennal moved to Paris, dissatisfied with his sculptural training in London. He took a studio and worked independently, while also meeting various sculptors, including Auguste Rodin, and learning from their methods. In Paris, Mackennal married Agnes Spooner, and they returned to England for the birth of their child in 1885.
Influenced in the 1880s by the avant-garde aspirations of British 'New Sculptors', Mackennal had become a prominent civic sculptor and a master of Edwardian style by the early 1900s. He acutely understood sculpture as an art of patronage, and demonstrated his ability to work quickly and completely within the dictates of convention by undertaking various commissions for public monuments. Mackennal was the first Australian artist to have his work purchased for the Tate gallery. He was also the first Australian artist to be knighted and to become a full member of London's Royal Academy.
'The dancer' is a life-size bronze nude, characteristic of Mackennal's sculpture in its expressive modelling and direct sense of life. It reveals his skill in dealing with complex movement. The work presents a figure arrested in action: the dancer arches and turns her body with twin spiral movements from legs to spine and shoulders. Her pose is relaxed as she steps forward, flourishing Spanish castanets, her outstretched foot lightly touching the ground. Through the carefully balanced pose, the work expresses a sense of graceful movement and a relaxed sensuality. The influence of Symbolism and Art Nouveau can be seen in the simple planes of the work.
---
Details
---
Media category
---
Materials used
bronze life-size statue
---
Dimensions
168.0 x 71.0 x 69.0 cm :
0 - Whole; 168 cm; bronze base - dimensions for display purposes only
0 - Whole; 71 cm
0 - Whole; 69 cm
Base; 6 x 49 x 69 cm
---
Signature & date
Signed and dated on base, incised "B macKennaL 1904".
---
Location
---
Place
Where the work was made
London
---
Shown in 7 exhibitions
Exhibition history
---
Referenced in 25 publications
Bibliography
---
Deborah Edwards., Australian sculpture 1890-1919, 'Australian sculpture 1890-1919', Sydney, 1987. no catalogue numbers
Bruce James, Art Gallery of New South Wales handbook, 'Australian Collection: Painting and Sculpture', pg. 102-181, Sydney, 1999, 127 (colour illus.).
Lionel Lindsay, 150 years of Australian art, Sydney, 1938. cat.no. 172
Juliette Peers, Bertram Mackennal: the fifth Balnaves Foundation Sculpture Project, 'Home and away: Bertram Mackennal as sign and visual source in tracking the influence of the New Sculpture in Australia', pg. 83-96, Sydney, 2007, 67, 91, 108 (colour illus.), 195 (colour illus., detail).
Ursula Prunster, Australian art: in the Art Gallery of New South Wales, 'Home and abroad', pg. 73-74, Sydney, 2000, 91 (colour illus.), 301.
Benedict Read, The Edwardians: secrets and desires, 'Edwardian sculpture', pg. 122-137, Canberra, 2004, 133 (colour illus.), 193 (colour illus.). cat.no. 80
Robin Robertson., The Weekend Australian financial review, 'ABN Amro teaches the art of "quiet" sponsorship', Sydney, 05 Aug 2000-06 Aug 2000, page unknown (colour illus.).
WK West, The Studio, 'The sculpture of Bertram Mackennal', pg. 262-267, London, 1908, 262-267, (illus.).
The development of Australian sculpture, 1788-1975, London, 1978, 68 (illus.).
The Triad: a journal devoted to literacy, pictorial, musical and dramatic art, Sydney, 10 Oct 1915, 29 (illus.).
Sydney daily telegraph, Sydney, 29 Oct 1910.
Glasgow Institute of the Fine Arts Exhibition (1906), Glasgow, 1906. cat.no. 877; priced £650.00
Paris salon of 1905, France, 1905. cat.no. 3377; titled 'La danseuse'
The builder, London, 18 Jun 1904, 664.
Times (London, England), London, 30 Apr 1904, 12.
The Sydney Morning Herald, Sydney, 07 Apr 1904, 28.
The Royal Academy of Arts, 1904, London, 1904. cat.no. 1837; priced £800.00
Academy architecture, London, 1904, 128 (illus.).
Bertram Mackennal: Catalogue raisonné, Sydney, 2007, (colour illus.). Artworks: Sculpture: 1900s
Bertram Mackennal: A career, Cremorne, 2004, 73.
Unknown, Aspects of Australian art, Sydney, 2000, front cover of brochure (illus.), front cover of card no. 3 (colour illus.). card no. 3: Bertram Mackennal 'The dancer' 1904
Unknown, AGNSW Collections, 'From Colonialism to late Modernism', pg. 7-106, Sydney, 1994, 32 (colour illus.).
The Sydney Morning Herald, Sydney, 05 Aug 1992, 1 (illus.).
Unknown (Editor), Art Gallery of New South Wales handbook, Sydney, 1988, 136 (colour illus.).
Unknown and Unknown (Editors), Portrait of a Gallery, 'Australian Art in the Old Courts', pg. 24-37, Sydney, 1984, 27 (colour illus.).