View More:
---
Title
Study of the head of a young mulatto woman, full face
---
Artist
Frederick Sandys
England
1829 - 1904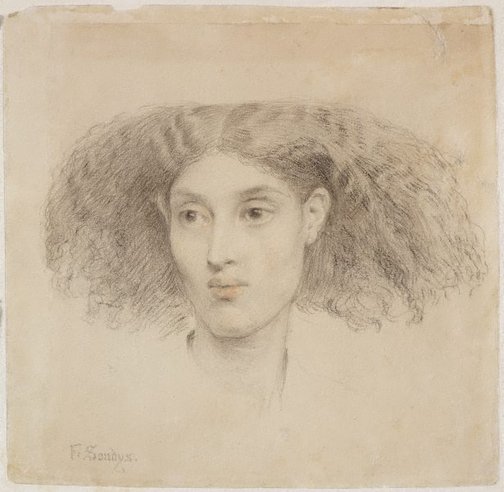 ---
About
Sandys was born in Norwich, the son of a dyer who gave up his trade and set himself up as a drawing master. Encouraged by his father, Sandys joined the Norwich School of Art and Design and exhibited his drawings from an early age. An important early supporter of his was the Reverend James Bulwer (an antiquarian and former pupil of the watercolourist John Sell Cotman), who commissioned drawings from the young artist. Precociously talented, Sandys moved to London where he made his Royal Academy debut in 1851 with a chalk portrait drawing, Lord Henry Loftus.
Sandys first entered the Pre-Raphaelite circle following the publication in 1857 of his satirical print A nightmare, lampooning a painting by John Everett Millais. It shows Millais, Dante Gabriel Rossetti and William Holman Hunt clinging to each other on the back of a braying ass named John Ruskin. Sandys was a talented illustrator, producing through the 1860s a number of designs for the new illustrated periodicals. His real specialism, however, was in large portrait drawings of glossy individuals and dreamy, ideal head studies of women in coloured chalks – works that led Rossetti to describe him as 'the greatest of living draughtsmen'.
A favourite subject was the femme fatale, whose diabolical nature and dangerous sexuality were usually associated with her hair. Sandys was able to draw abundant, rippling hair with incomparable beauty and, at times, fetishistic intensity. Rossetti's influence was pronounced, but a rift developed between the two artists when Rossetti accused Sandys of plagiarising his pictures.
Just as Rossetti became obsessed in the 1860s with the dark, sombre beauty of Jane Morris, so was Sandys strongly drawn to models whose features did not conform to the Victorian ideal of feminine beauty. The female sitter depicted in the Gallery's drawing was traditionally thought to be the young gypsy girl known simply as Keomi. Sandys is said to have met her at a Romany camp in Norfolk, and to have subsequently brought her to London where he introduced her to other painters in Rossetti's circle. Keomi figures in a number of Sandys's works from the early 1860s.
In her definitive study on Sandys, Betty Elzea has identified the sitter in the Gallery's drawing as Fanny Eaton, a young mulatto model with striking features and unruly black hair, who also sat to Rossetti, Millais, Albert Moore and Simeon Solomon. She appears in a related head study in the Victoria and Albert Museum in London – shown looking upwards and to the right – that Sandys later used in preparation for his oil painting of 1864 representing the sorceress of Arthurian legend, Morgan le Fay (Birmingham Museum and Art Gallery). The final painted figure appears to be a curious conflation of the features of Keomi and Fanny Eaton.
Although Sandys largely withdrew from the Pre-Raphaelite circle after 1870, he continued to enjoy a measure of public esteem for his stylish portraits. He lived far beyond his means and was often in financial difficulty. He relied increasingly upon commissioned work from loyal patrons. Among the most impressive formal portraits of his last years are the drawings commissioned by the publishing firm of Macmillan depicting writers such as Matthew Arnold and Alfred, Lord Tennyson.
Peter Raissis, Prints & drawings Europe 1500–1900, 2014
---
Details
---
Other Title
Head of a woman
---
Media category
---
Materials used
black and red chalk, pencil on paper
---
Dimensions
23.7 x 24.3 cm sheet
---
Signature & date
Signed l.l., black chalk "F. Sandys. [probably added by the artist's daughter]". Not dated.
---
Shown in 5 exhibitions
Exhibition history
---
Referenced in 5 publications
Bibliography
---