View More:
---
Title
Untitled (Portrait of James Stenning)
---
Artist
Harold Cazneaux
New Zealand, Australia
30 Mar 1878 - 19 Jun 1953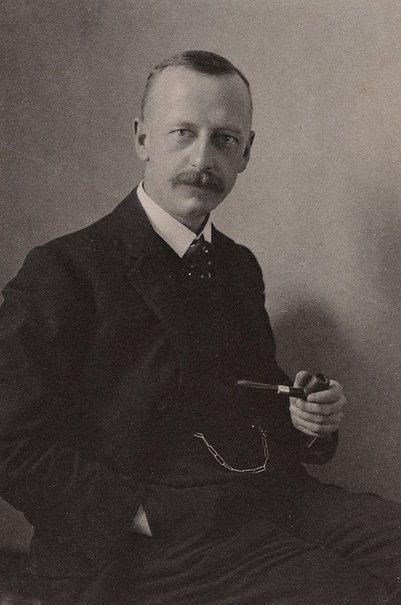 ---
About
James Stening was born in Sydney and trained as a jeweller. Along with Cazneaux, he was a foundational member of Sydney Camera Circle. The group meet monthly to discuss innovations and experiments in the artistic pursuit of photography 1. Stening's own photographic interest lay largely in taking pictorialist visions of the natural environment. He resigned from being an active member of photographic associations during the 1920s, and subsequently, only took pictures intermittently. For Cazneaux's portrait, he adopts a rather conventional pose. Stening sits with his body angled away from the camera, a remnant of nineteenth century photographic traditions where front-on bust shots were indicative of criminal status or an ethnographic frame 2. His head then turns back to face the camera, confidently staring down the barrel of the lens, as gentlemen had done for a half century before him. Stening's form is lit from the right-hand side of the frame, and he casts a soft shadow behind him. He is dressed in a three-piece suit and accessorised with a pocket watch and chain, polka dot neck-tie and pipe, befitting his class and professional status. This photograph was part of Cazneaux's Photographic Society of New South Wales exhibition 1909 3.
Harold Cazneaux was born in Wellington, New Zealand in 1878. His parents, Pierce Mott Cazneau and Emma Florence (née Bentley) worked in commercial studios in New Zealand before returning to settle permanently in Adelaide during the early 1890s. At the age of 18 Cazneaux went to work alongside his father at Hammer & Co studio as a retoucher. He moved to Sydney in 1904 to join the larger portrait firm, Freeman's quickly ascending to the position of 'chief operator' (as camera portraitists were known). Studio work was highly formulaic, with little scope for creativity. Cazneaux used his time walking to and from work to experiment with pictorialist aesthetics 4. In 1916 he and fellow pictorialist photographer, Cecil Bostock founded the Sydney Camera Circle. The group was particularly interested in the how pictorialism could be adapted to and extended within an Australian context. The mechanised, standardised and frenetic pace of Freeman's increasingly took its toll on Cazneaux's creativity and health, and he resigned in 1917. He moved with his wife and daughters to the Sydney suburb of Roseville, and in 1920 he was employed as the official photographer for The Home magazine. This new position let him work in a varied indoor and outdoor environments. In 1938 Cazneaux was awarded an Honorary Fellow of the Royal Photographic Society of London. He continued to work until his death in 1953.
1. Newton G 1988, 'Shades of Light: Photography and Australia 1839-1988' Australian National Gallery, Canberra p 86
2. Lalvani S 1996, 'Photography, Vision and the Production of Modern Bodies', State University of New York Press, Albany p 102
3. Cazneaux H 1909, 'Comments on the "One-Man" Show', unpublished manuscript, MS8361, Folder 7, National Library of Australia, Canberra p14
4. Newton G 1988, 'Shades of Light: Photography and Australia 1839-1988', Australian National Gallery, Canberra p 85
---
Details
---
Media category
---
Materials used
gelatin silver photograph, vintage
---
Dimensions
13.3 x 9.0 cm image/sheet (irreg.)
---
Signature & date
Not signed. Not dated.
---
Credit
Gift of the Cazneaux family 1985