Aboriginal and Torres Strait Islander art
View More:
---
Title
Prime Minister Gough Whitlam pours soil into the hands of traditional land owner Vincent Lingiari, Northern Territory
---
Artist
Mervyn Bishop
Australia
1945 -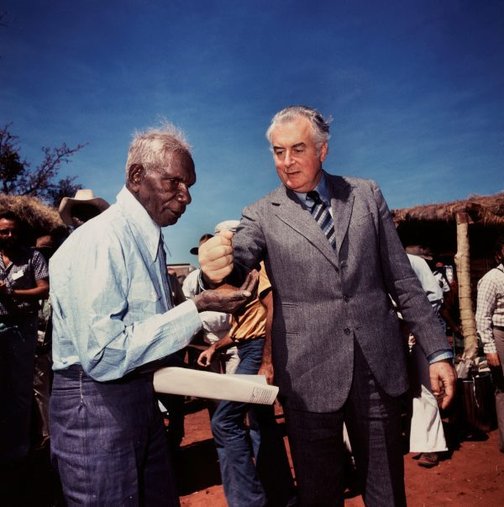 ---
About
From 1974 Bishop established the position of staff photographer at the Department of Aboriginal Affairs in Canberra during an important era in Indigenous self-determination. Here he covered the historical moment at Wattie Creek on 16 August 1975 when Prime Minister Gough Whitlam poured a handful of Daguragu soil back into the hand of Vincent Lingiari, Gurindji elder and traditional landowner. Whitlam said: 'Vincent Lingiari I solemnly hand to you these deeds as proof, in Australian law, that these lands belong to the Gurindji people and I put into your hands part of the earth itself as a sign that this land will be the possession of you and your children forever.' Lingiari, having received the crown lease of his ancestral land, simply replied, 'We are mates now'.1
When interviewed in 2000 Bishop explained that he asked the two leaders to re-create the handover away from the shaded shed where it took place, saying: 'We'll get away with a nice blue sky behind it. I asked Mr Whitlam and Mr Lingiari to do it again, and so they did.'2 This image became an icon of the land rights movement in Australian political photography. The bright blue sky and red earth gives an immediate sense of place. The years of struggle are engraved on Lingiari's face and slightly bent back, whereas Whitlam stands confident and optimistic. The white papers and words are meaningless compared to the physical action of the dry red earth falling from Whitlam's hand to a growing mound in Lingiari's palm. In a few minutes the two hands in the shape of an hourglass symbolically rectified the years of injustice for the Gurindji people by giving them access to their ancestral lands.
1. Snowdon Hon W 2002, 'First speech as the member for Lingiari', Shadow Parliamentary Secretary for Northern Territory and Indigenous Affairs, 20 Mar. See www.warrensnowdon.com/speeches/020320.htm. Accessed 15.07.2006
2. Hussey G & Bishop M, interview transcript, 'Mervyn Bishop's career celebrated', 7.30 Report, ABC, 11 Dec 2000, www.abc.net.au/7.30/stories/s222548.htm. (Accessed 15.07.2006)
© Art Gallery of New South Wales Photography Collection Handbook, 2007
---
From the Gallery Shop
---
Details
---
Place where the work was made
---
Media category
---
Materials used
type R3 photograph
---
Dimensions
30.5 x 30.5 cm image; 33.9 x 33.9 cm sheet
---
Signature & date
Not signed. Not dated.
---
Credit
Hallmark Cards Australian Photography Collection Fund 1991
---
Shown in 3 exhibitions
Exhibition history
---
Referenced in 11 publications
Bibliography
---
Judy Annear, The photograph and Australia, Sydney, Jun 2015, 6 (colour illus.).
Natasha Bullock, Australian postwar photodocumentary, Sydney, 2004. no catalogue numbers
Georgina Cole, Look, 'Australian photographs past and present: What they say about the people and the country', pg. 26-30, Sydney, Mar 2015, 28 (colour illus.), 29.
Hannah Fink, One sun one moon: Aboriginal art in Australia, 'Self-evident: Indigenous artists and the photographic image', pg. 310-321, Sydney, 2007, 314 (colour illus.).
Jonathan Jones, Tradition today: Indigenous art in Australia, 'Mervyn Bishop', pg. 32, Sydney, 2004, 32, 33 (colour illus.).
Tracey Moffatt (Editor), In Dreams: Mervyn Bishop, thirty years of photography, 1960-1990, Sydney, 1991, 81 (illus.).
Maurice O'Riordan (Editor), Art Monthly Australia, Canberra, Oct 2010, 56 (colour illus.). Artnotes
Rose Peel, Photography: Art Gallery of New South Wales Collection, 'Australian postwar photo-documentary', pg.189-207, Sydney, 2007, 195, 206 (colour illus.).
Hetti Perkins and Jonathan Jones (Editors), Half light: Portraits from black Australia, 'Mervyn Bishop', pg. 48-55, Sydney, 2008, 51 (colour illus.).
Hetti Perkins, Art + soul: a journey into the world of Aboriginal art, 'Bitter + Sweet', pg. 174-239, Carlton, 2010, 202-203 (colour illus.), 204, 250, 281.
Sandra Phillips (Editor), Racism, representation and photography, Stanmore, 1994, 85 (illus.). figure 4.5