View More:
---
Title
20 Frog poems: distant thunder (a memorial) for D.M.
---
Artist
Robert MacPherson
Australia
1937 -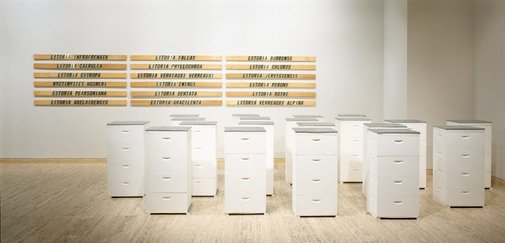 ---
About
Robert MacPherson's art addresses the colloquial and distinctive aspects of Australian landscape and language. He conceptually melds materials and content drawn from everyday life – blankets, paint brushes, shovels, cars, road signs, frogs, fish, chickens and eggs – with art historical issues, in particular the use of language and text, the histories of painting and the visual effect of serial repetition upon meaning. 'I like to be known as an ideas-based artist … I like seriality, permutation by very simple means', he says.1
MacPherson has been producing the 'Mayfair' series since the 1980s. 'Mayfair Bar' was the name of the café where for many years he bought his lunch. This personal history – the ritual of returning to the same place daily – is elaborated through various idiosyncratic means in this ongoing body of work. In 'Mayfair: Summer farm, forty-five signs for Micky Monsour' 1993 (AGNSW collection), 45 masonite panels evenly spaced across the wall present in different ways the price of eggs, the distance from the roadside outlet or how big and small the eggs are – from medium to jumbo and extra-large, to special, cheap and fresh. Painted primarily in black and white, the panels act as road signs whose witty content varies from the more to less exceptional attributes of eggs. These permutations are a significant aspect of MacPherson's work, recognising the diminishing nature of our vernacular history and its particular regional characteristics.
These ideas are poetically surmised in an earlier work entitled '20 Frog poems: distant thunder (a memorial) for D.M.'. The 'Frog poems' are also part of an ongoing series which MacPherson began in 1982. The work comprises 20 beehives and 18 placards with the Latin names of Australian frogs presented in a formal grid on the wall. There is a slippage here between the ordinary beehives and the specialised language used to denote the frogs, which to most people is inscrutable. The intangible aspects of this work, the distant thunder, the swarming bees and the croaking frogs place the content firmly in the Australian landscape. MacPherson is also referencing the conventions of minimalism: the industrial materials, square boxes and shiny surface of the signs. As in the 'Mayfair' series, he elevates the vernacular by integrating the everyday with the art-historical. MacPherson does this in part to reflect on the hermetic antecedents of modernism. Indeed he believes that 'all good art comes from previous art'.2 By revelling in the things which modernism attempted to remove, such as the everyday and consumer culture, the regionally focused character of MacPherson's work disputes the view of painting as an autonomous and internalised process. In so doing he makes the conceptual personal.
1. Daniel Thomas, 'Everybody sings: the art of Robert MacPherson', 'Art and Australia', vol 33, no 4, winter 1996, p 486.
2. Robert MacPherson 'Artist's statement' from 'IMA Bulletin', vol 1, no 1, 1975 as cited in Trevor Smith, 'Robert MacPherson', Art Gallery of Western Australia, Perth 2001, p 17.
© Art Gallery of New South Wales Contemporary Collection Handbook, 2006
---
Details
---
Media category
---
Materials used
Metl-stik on wood, beehives
---
Dimensions
Installation dimensions variable according to room size :
a-t - 20 beehives, 104 x 51 x 41 cm, each
u-ll - 18 panels with metl-stik tex, 9 x 186 x 2 cm, each
---
Signature & date
Signed left verso panel [Litoria Verreauxi Verreauxi], black marker "R. MACPHERSON/...". Not dated.
---
Credit
Rudy Komon Memorial Fund 1990
---
Accession number
478.1990.a-ll
---
Shown in 4 exhibitions
Exhibition history
---
Referenced in 8 publications
Bibliography
---
René Block (Curator), The eighth Biennale of Sydney: the readymade boomerang: certain relations in 20th century art., Sydney, 1990, 264, 265 (illus.). cat. no. 275a
Anthony Bond and Victoria Lynn, AGNSW Collections, 'Contemporary Practice - Here, There, Everywhere ...', pg. 229-285, Sydney, 1994, 234 (colour illus.).
Anthony Bond, Look, 'Landscape not always what it might seem', pg.18-20, Sydney, Nov 2008, 20 (colour illus.).
Natasha Bullock, Contemporary: Art Gallery of New South Wales Contemporary Collection, 'Landscape, mapping, nature', pg.290-331, Sydney, 2006, 320, 321 (colour illus.).
Sue Cramer (Curator), Robert MacPherson '20 Frog Poems: Distant Thunder (A Memorial) for D.M.' 1987-1989, Unknown, 1989. no pagination
Ingrid Periz, Binocular: focusing, time, lapses, 'Unpainting painting: the work of Robert MacPherson', pg.61-75, Sydney, 1992, 69 (colour illus.), 70, 71.
Ingrid Periz (Curator), Robert MacPherson: the described the undescribed, Sydney, 1994, (illus.).
Trevor Smith, Robert MacPherson, 'The world in my paintbrush', pg.49-79, Perth, 2001, 60, 73, 108-109 (colour illus.), 136, 137 (illus.). figures .11.12