Title
(Girl with koto)
post 1716
Artist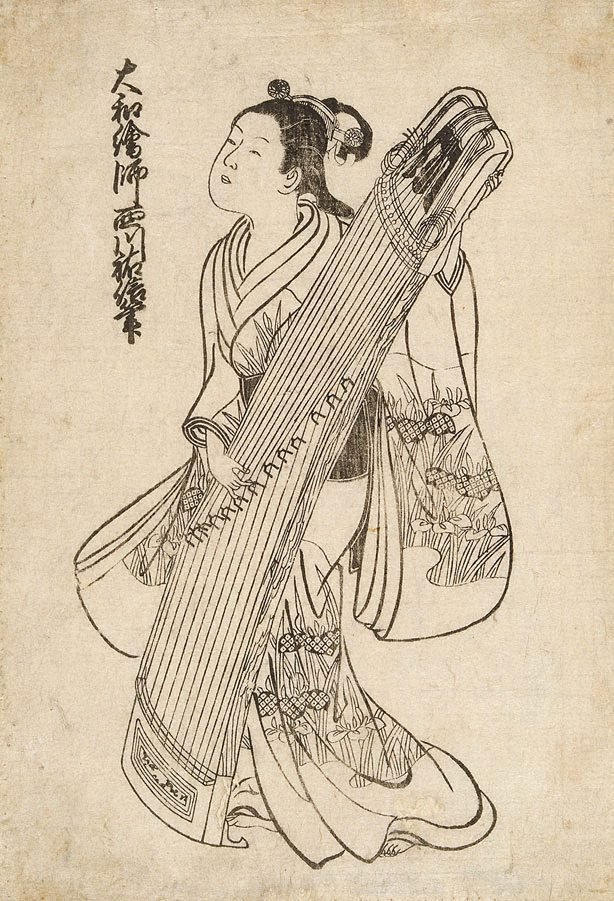 Details

Place where the work was made

Period

Date

post 1716

Media category

Materials used

woodblock print; chûban tate-e

Dimensions

26.3 x 17.9 cm

Signature & date

Signed u.l., in Japanese, ink [incised on block] "Yamato-e-shi Nishikawa Sukenobu hitsu [Drawn by Nishikawa Sukenobu, yamato-e painter]". Not dated.

Credit

Purchased 1930

Location

Not on display

Accession number

4349

Copyright

Artist information

Nishikawa SUKENOBU

Works in the collection

Share

About

Sukenobu was a leading Kyoto master who turned from classical subjects to the depiction of contemporary life. This image is a fine example of a 'sumizuri-e' (ink print), the basis of all prints.

The Asian Collections, AGNSW, 2003, pg.248.

Places

Where the work was made

Japan

Exhibition history

Bibliography

Referenced in 3 publications

Gary Hickey, Beauty & desire in Edo period Japan, Parkes, 1998, 44, 45 (colour illus.), 71. plate no. 2

Jackie Menzies, The Floating World: Japan's world of transient pleasures, Sydney, 1994. cat.no. M24

Jackie Menzies (Editor), The Asian Collections Art Gallery of New South Wales, 'The Floating World', Sydney, 2003, 248 (colour illus.).
Other works by Nishikawa SUKENOBU