Aboriginal and Torres Strait Islander art
View More:
---
Artist
Tracey Moffatt
Australia, United States of America
12 Nov 1960 -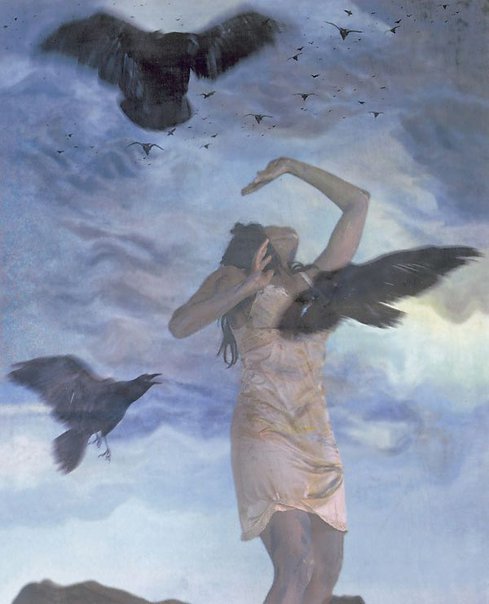 ---
About
'Invocations' 2001 took two years to realise: one year in the studio in New York with sets and models constructing and shooting each scene, and one year working with printer Gene Licht in order to create the necessary effect and results. Between 15 and 25 silkscreens were used in order to build up richly textured surfaces which enhance the illusions set up within each frame. The subtlety of colour, tone and depth is seductive and brings in to play additional references to painting as well as printmaking.
There are three parts to the series: the little girl in the forest; the woman and man in the desert; and the spirits which appear in the rondels. The little girl lost in the forest is familiar from childhood fairy tales, and the style of this part of the series is reminiscent of Disney movies (cartoon trees which are anthropomorphic and so on). The childhood imaginary is coloured by fairy tales (eg. Brothers Grimm) and by popular film (eg. Fantasia).
The larger works draw on film references from Hitchcock's 'The Birds', to 'Mandingo' as much as they do on the Spanish artist Goya. The nature of fear and horror, obsession, passion, fight and flight - these extremes of emotion are all played out through the figures of the man and woman with ghostly spirits or their manifestations in other forms looking on.
The rondels depict ghostly figures embracing and fighting. These strange Goya-esque spirits are as familiar from dreams and nightmares as much as Goya. All of Moffatt's work taps into common experience whether childhood embarrassments; adolescent yearnings for power and escape, adult passions fuelled by extremes.
Moffatt is always very good at drawing on the past without expressing nostalgia (the individual past, collective past, historical past), and how these different fragments can be pieced together in the present. Photography is the perfect medium to work with in this regard as it is so closely allied to our contemporary understanding of memory and time.
The narrative running through 'Invocations' is to do with the intangible nature of power and passion. These powerful feelings pervade our everyday life through popular culture as much as high art, as does the material locked in our unconscious which emerges in dreams, nightmares and how we interact with others.
Equally 'Invocations' is about survival, about what can emerge from a seemingly barren landscape, and moods and feelings which pervade lives we might think of as being poor. The prayers to the gods in 'Invocations' can encompass many good and bad desires just as the gods can be good and bad. Moffatt works with a pantheon of possibilities, and of sources which she draws together in an idiosyncratic fashion.
Moffatt has said that she is interested in creating reality not capturing it. Lynne Cooke pointed out in the catalogue for the artist's major exhibition at the Dia Center, New York in 1997 that her images are constructed 'from the shards of older stereotypes'. Hence the sense of recognition when we see her work, even if the narrative is not explicit.
---
Details
---
Media categories
---
Materials used
photo screenprint, printed in colour ultraviolet inks on textured Somerset satin paper
---
Edition
XIV/XV (of the Patrons edition)
---
Dimensions
146.0 x 122.0 cm sheet
---
Signature & date
Signed and dated l.r. sheet, pencil "T. MOFFATT 2000".
---
Credit
Gift of Patrick Corrigan 2001
---
Accession number
415.2001.5
---
Shown in 1 exhibition
Exhibition history
---
Referenced in 4 publications
Bibliography
---
George Alexander, Contemporary: Art Gallery of New South Wales Contemporary Collection, 'Popism and screen culture', pg.204-245, Sydney, 2006, 207, 232.
Judy Annear, Look, 'Fantasy and memory', pg.9, Melbourne, Jun 2001, 9.
Art Gallery of New South Wales, Art Gallery of New South Wales Annual Report 2002, 'Year in review', pg. 8-25, Sydney, 2002, 14.
Gael Newton, Tracey Moffatt Invocations, 'Invocations', pg.12-18, Canberra, 2001, cover (colour illus.),13 (colour illus.), 16. cover illustration is a detail