View More:
---
Title
Study for the head of the Queen of Sheba
---
Artist
Sir Edward John Poynter
England
20 Mar 1836 - 26 Jul 1919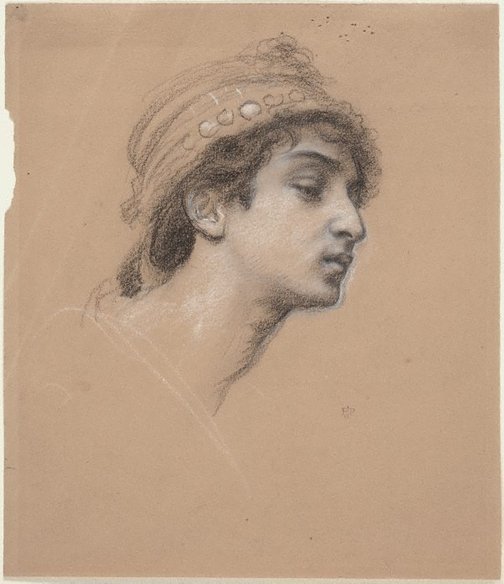 ---
About
This head study in black and white chalk is preparatory for the female protagonist in Poynter's grandest painting, The visit of the Queen of Sheba to King Solomon (page 168). Poynter worked on this epic canvas from 1883 to 1890. It was purchased by the Art Gallery of New South Wales in 1892.
The sheer scale of the production, coupled with the challenge of orchestrating dozens of figures to create a compelling and spectacular narrative, meant that drawings were an essential technical device for the artist. Poynter was an academic painter of the highest order, who followed in the footsteps of his close colleague Frederic Leighton in upholding the lofty ideals of the academic tradition. Like Leighton, Poynter based his working methods on the practice of the painters of the Italian Renaissance: he prepared his compositions scrupulously, making exhaustive preparatory drawings from the life model, as well as head and detail studies. Even secondary figures had to be carefully worked out according to pose and expression.
The visit of the Queen of Sheba to King Solomon combines a strong element of imaginative reconstruction with meticulous archaeological research. Poynter kept abreast of the recent British excavations at the ancient Assyrian cities of Nimrud, Nineveh and Babylon in modern-day Iraq and drew upon the discoveries made there – as well as Egyptian and Persian sources – for his picture.
Poynter's concern to make the scene appear historically plausible went beyond fidelity to the details of architecture and décor: it was also important that his cast of characters should appear as if they had just stepped out of the ancient Near East and not resemble contemporary Europeans, which is how they would inevitably have been represented by painters in earlier centuries.
One of Poynter's greatest challenges was that of representing a figure as legendary and enigmatic as the Queen of Sheba. For although her story has been variously elaborated by different faith traditions, her true origins and identity are mysterious and have confounded archaeologists. Poynter's late Victorian retelling of Sheba's fabled meeting with Solomon at his palace in Jerusalem, where she comes to witness the king's wealth and test his wisdom with 'hard questions', is described in the Old Testament Book of Kings. The land from which the queen is believed to originate is the powerful kingdom of Saba, in present-day Yemen.
Surprisingly, Poynter first envisioned Sheba as a fair English beauty. In subsequent drawings he gradually modified the model's features and changed her appearance, giving her the form she would assume in the final painting as an alluring and exotic queen. When the painting was exhibited in London in 1890, Walter Armstrong, author of the accompanying pamphlet, described the figure as resembling a 'Hindoo Goddess'. Others thought she looked like a composite of 'an Egyptian and an Indian Queen'. That Poynter chose to focus more on Sheba's exotic beauty than her racial specificity is perhaps not surprising given that the topic of ideal feminine beauty was one of the great preoccupations of Victorian art, and of the culture at large.
Peter Raissis, Prints & drawings Europe 1500–1900, 2014
---
Details
---
Shown in 4 exhibitions
Exhibition history
---
Referenced in 4 publications
Bibliography
---
Renée Free and Rose Peel, Dreams and realities: Victorian works on paper, Sydney, 1993, p 11.
Renée Free and Peter Laverty, Victorian Olympians, Sydney, 1975, p 36, illus p 72. cat no D22
Alison Inglis, "The Queen of the South": archaeology and empire in Edward J Poynter's The visit of the Queen of Sheba to King Solomon, 2005, p 31.
Peter Raissis, Prints & drawings Europe 1500-1900, Sydney, 2014, p 166, col illus p 167.