Aboriginal and Torres Strait Islander art
View More:
---
Artists
Kunmanara (Mumu Mike) Williams
Australia
1952 - Mar 2019
Language group
Kunmanara (Willy Muntjantji) Martin
Australia
1950 - Oct 2018
Language group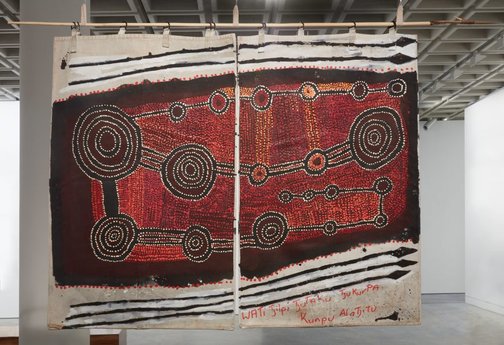 ---
About
"The painting is on (Australia Post) mailbags. This is about ownership. Government always want to say that something belongs to them – 'It belongs to the Commonwealth, we're the owner' – but I'm saying, 'wiya (no), this belongs to Anangu, to the Traditional Owners.' For this painting, I worked with Sammy Dodd, he made the kulata (spear) using the proper Irititja (traditional) way. The kulata stands for strong men's culture, and protecting our manta, guiding the Tjukurpa. [Kunmanara] (Willy Muntjantji) Martin is painting his mother's country, Piltati, near Nyapari, and the Wanampi (water snake) Tjukurpa from there. We're all passing on what we know, to our children and grandchildren, because the Tjukurpa is always there, it's always in the manta. After we tjilpis are finished, the Tjukurpa is still there, titutjara (always)."
Kunmanara Williams 2017
The Pitjantjatjara text states:
Anangu Law
The tjilpi (senior men) are teaching about kulata (spears). Tjukurpa (cultural lore) around spears is very strong and is from the times of the Tjukurpa (Creation Stories). All the old senior men are holding strongly onto their Tjukurpa and protecting it with many spears.
Tjukurpa kunpu. Strong law and culture.
Theft or misuse of this Tjukurpa (Cultural Herritage) is a criminal offence, penalties apply.
Theft or misuse of this Manta (Land) is a criminal offence, penalties apply.
Senior men's law and culture is very strong.
---
Details
---
Cultural origin
---
Media categories
---
Materials used
acrylic, ink and acrylic marker pen on canvas mailbags with kulata (spear) made from punu (wood), malu pulyku (kangaroo tendon) and kiti (resin made from mulga leaf resin)
---
Dimensions
116.0 x 142.0 x 2.0 cm :
A - Part A, 118 x 75 cm
B - Part B, 118 x 75 cm
C - Part C, 192 cm
---
Signature & date
Signed l.l. corner, Mumu Mike Williams". Not dated.
---
Credit
Purchased with funds provided by the Aboriginal Collection Benefactors' Group 2017