View More:
---
Artist
Peter Kennedy
Australia
1945 -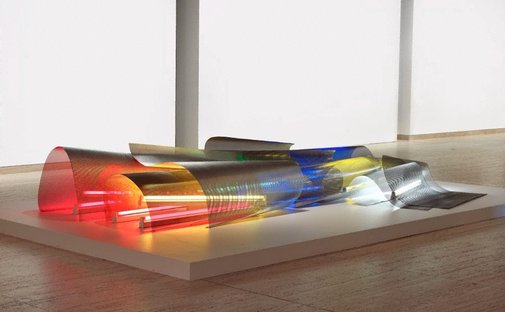 ---
About
Brisbane born Peter Kennedy is one of Australia's most significant conceptual artists. A founding member of the co-operative 'Inhibodress', which played a key role in Australian experimental art of the early 1970s, Kennedy has been a pioneering artist in installation, light, performance and sound work in Australia.
Becoming aware of the work of international light artists such as Keith Sonnier, Bruce Nauman and Dan Flavin in the mid-1960s, Kennedy realised that 'light was an interesting thing to work with', and organised a job in 1967 as a neon sign designer at Claude Neon, Sydney to gain experience with the (then) innovative medium.
1970-71 proved to be a period of intense experimentation for Kennedy in terms of his investigation of the properties, effects and poetic dimensions of neon and fluorescent light. He mounted three exhibitions of light works during these years, including 'Neon Light Installations' in February 1970, which is considered the first exhibition of Australian neon sculpture.
'Floor piece 2' 1970/2011 is an exact recreation by Kennedy of the major environmental light work from his second exhibition, 'Luminal Improvisations' of late 1970 (the original was destroyed). A spectacular floor installation in glowing bands of fluorescent colour and metal mesh, it embodies not only key concerns of Kennedy's early light works, but is a central work in the context of the larger transitions in three dimensional practice in Australia over the 1960s -70s.
If, with his minimal neon-tube wall pieces of early 1970 Kennedy investigated light assemblages as linear arrangements responsive to the architecture of his site, with 'Floor piece' 1970 it is the volumetric and ambient properties of this coloured fluorescent tube and mesh assemblage which take aesthetic precedence. 'Floor piece 2' embodies the emphatically sculptural resolutions Kennedy was able to forge with such spatial, colourist constructions, positioned as they are between the artist's earlier linear neon arrangements of late 1969/early 1970 and his subsequent commitment to the performative and interactive capacities of light works in a series of light-duration installations of 1971.
Widely and favourably reviewed, Kennedy's light works significantly expanded a territory previously occupied in Australia by the luminal-kinetic sculptures of modernists such as Frank Hinder and Stan Ostoja-Kotkowski.
---
Details
---
Media category
---
Materials used
coloured fluorescent tubes, electrical cord, industrial metal mesh, wooden plinth
---
Dimensions
40.0 x 600.0 x 300.0 cm; dimensions variable
---
Signature & date
Not signed. Not dated.
---
Credit
Barbara Tribe Bequest Fund 2011
---
Accession number
305.2011.a-c
---
Shown in 3 exhibitions
Exhibition history
---

Peter Kennedy 'Luminal Improvisations' and Tim Johnson, 'Lightworks, Unlimiteds', Gallery A (Sydney), Paddington, 14 Nov 1970–02 Dec 1970

Luminaries, Monash University Gallery, Clayton, 03 Sep 1993–23 Oct 1993

Peter Kennedy Light Years 1970-71, Institute of Modern Art, Fortitude Valley, 06 Jun 2011–25 Jun 2011
---
Referenced in 6 publications
Bibliography
---
Donald Brook, The Sydney Morning Herald, 'Light and space', pg. 20, Sydney, 19 Nov 1970, 20.
Nicholas Chambers., Gallery A Sydney 1964 - 1983, 'Imagining Gallery A Sydney', Peter Kennedy interviewed, Campbelltown, 2009, 178-179 (colour illus.), 177-185. original 1970 version
Sue Cramer, Less is more: minimal + post-minimal art in Australia, 'Part II: the sixties generation', pg. 29-46, Bulleen, 2012, 45, 46. NOTE: this essay contains general information relating to Kennedy's electric light works.
James Gleeson., Sun-Herald, 'Imagination in light', Sydney, 18 Nov 1970.
Stephen Jones., Peter Kennedy: light years 1970-1, 'Engaging the avant-garde', Brisbane, 2012, cover (colour illus., detail), vii (colour illus., detail), xxiii-xxiv (colour illus.), xxv (colour illus., detail), xxvi (colour illus., detail), back cover (colour illus., detail). not paginated; images of installation are from Gallery A, Sydney, 1970.
Zara Stanhope, Luminaries, Victoria, Sep 1993, facing 16 (colour illus.), 31. 1993 version