View More:
---
Title
Two studies of a woman
---
Artist
James Tissot
France, England
15 Oct 1836 - 08 Aug 1902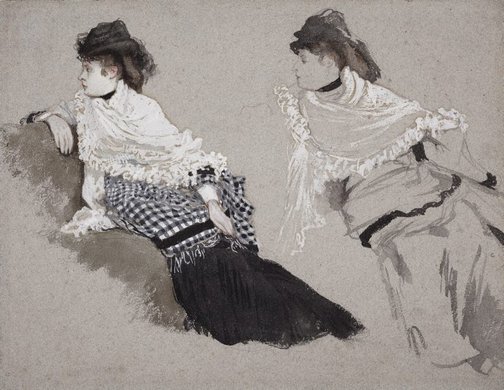 ---
About
Christened Jacques-Joseph, Tissot was born in Nantes, the son of a linen draper, and was educated there by the Jesuits. He later moved to Paris, where he trained with the painters Louis Lamothe and Hippolyte Flandrin and cultivated friendships with a circle of avant-garde artists, including Degas, Manet and Whistler. He also Anglicised his name to James.
Tissot was a superb technician who worked in the academic style espoused by the Salon, although his subjects on the whole were avowedly modern. He is mainly remembered for his depictions of the customs, manners and fashions of the newly rich Victorian middle classes – what John Ruskin dismissed as 'mere coloured photographs of vulgar society'. His pictures nonetheless present a splendid panorama of the genteel world he inhabited, and beneath their surface charm and polish they communicate the ennui, ambiguities and tensions of social and domestic life in the late Victorian age.
Tissot escaped to England in 1871 after the Franco-Prussian War, probably fearing reprisal for his supposed involvement in the Paris Commune. He swiftly established a highly successful career in London. His acquaintance, Edmond de Goncourt, called Tissot an 'ingenious exploiter of English idiocy' and sneeringly described his studio, 'where, at all times, there is iced champagne at the disposal of visitors, and the studio is surrounded by a garden where, all day long, one can see a footman with silk stockings brushing and shining the shrubbery leaves'.
From 1876 Tissot lived in defiance of Victorian morality with the beautiful divorcee, Kathleen Newton, at his villa in St John's Wood. Mrs Newton and her children figured repeatedly in Tissot's paintings until her death in 1882. Thereafter, the grief-stricken artist moved back to Paris, his London house purchased by Lawrence Alma-Tadema. Later in life Tissot returned to Catholicism and his art entered a religious phase, the catalyst of which was a vision revealed to him while working in Saint Sulpice Church in Paris. His final years were devoted to a series of pictures on the life of Christ and illustrations to the Bible.
An interesting aspect of Tissot's art, which he began in the late 1860s, are the caricatures of eminent people he was commissioned to draw for the magazine Vanity Fair. His use of gouache and watercolour – which appears in a number of attractive studies of women in modern dress made around the time of his arrival in London – was probably a direct result of his commercial, illustrative work. About ten such drawings, including the sheet in the Gallery's collection, are known today.
The Gallery's study may represent an early idea for the female figure in Tissot's painting The last evening 1873 (Guildhall Art Gallery, London), although it was never incorporated into the picture. The painting is one of Tissot's shipboard scenes set on the Thames, done shortly after his arrival in London, in which a sailor and his lover sit pensively before their imminent separation. The female model was Margaret Freebody (née Kennedy), the wife of Tissot's friend, Captain John Freebody.
As in the painting, Margaret Freebody is shown in the Gallery's drawing wearing a hat wrapped in gauzy fabric and a checked coat worn over a black dress. The painting shows her without the white shawl. A couple of directly related watercolour and gouache studies (Smith College Museum of Art, Massachusetts and J Paul Getty Museum, Los Angeles) depict the model seated in a wicker rocking chair with her hands joined and gently resting on her cheek. These were presumably completed shortly after the Gallery's drawing, recording the more poignant, introspective pose Tissot adopted for the finished picture.
Peter Raissis, Prints & drawings Europe 1500–1900, 2014
---
Details
---
Media categories
---
Materials used
pencil, watercolour and gouache on blue-grey paper
---
Dimensions
29.8 x 38.5 cm sheet [irreg.]
---
Signature & date
Not signed. Not dated.
---
Shown in 5 exhibitions
Exhibition history
---
Provenance
---
Source unknown, Purchased by the AGNSW in London 1933
---
Referenced in 7 publications
Bibliography
---
Edmund Capon AM, OBE and Jan Meek (Editors), Portrait of a Gallery, 'Prints & Drawings', pp 115-122, Sydney, 1984, p 116, col illus p 117.
Nicolas Draffin, Art Gallery of New South Wales handbook, 'Prints & Drawings', pp 109-124, Sydney, 1988, p 120.
Renée Free and Rose Peel, Dreams and realities: Victorian works on paper, Sydney, 1993, illus p 12. no catalogue numbers
Terence Maloon and Peter Raissis (Editors), Michelangelo to Matisse: drawing the figure, Sydney, 1999, col illus p 171. cat no 165
Krystyna Matyjaszkiewicz, James Tissot, London, 1984, p 109. no 56
Peter Raissis, Prints & drawings Europe 1500-1900, Sydney, 2014, p 150, col illus p 151.
Jon Whiteley, Catalogue of the collection of drawings in the Ashmolean Museum, vol 7: French School, 2 vols, Oxford, 2000, vol 1 p 419. under no 145