View More:
---
Title
Untitled – Cargo cult (from Body beautiful – a.k.a. Beauty knows no pain)
circa 1967-1972
printed circa 2000
---
Artist
Martha Rosler
United States of America
29 Jul 1943 -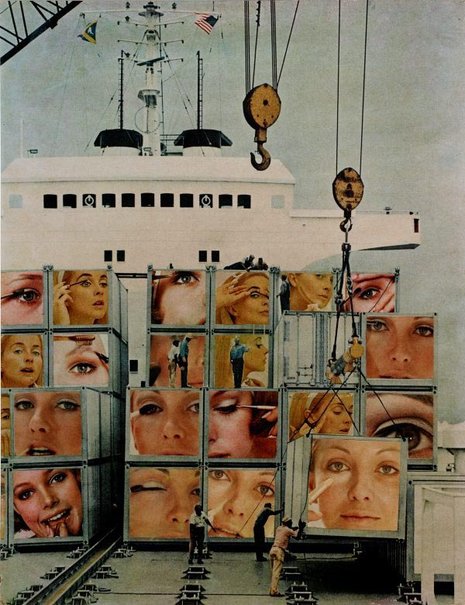 ---
About
There is a dexterity and a playfulness to the way Martha Rosler works with the raw material of an image saturated culture. In her photomontages, a core component of her practice since the 1960s, Rosler sorts through the deluge of images we encounter in our daily life – in advertising, on the news – and repurposes them as ammunition for complex critiques of societal concerns and humanist principles. In her work, passive images that we rarely question (for we see them with such frequency) become agents of subterfuge. Remixed and reworked, they jolt us out of complacency.
Her work serves as an incisive commentary on many ethical minefields, from consumerism and gentrification to conflict and the collateral effects of war. Hers is a deeply entrenched feminist practice and the sexualisation and typecasting of women is a subject she routinely examines. In this work, images from cosmetics advertisements have been composited onto the sides of shipping containers. Transportable and saleable cargo, these women – all of semi-uniform appearance – are reduced to mere commodities. They can be bought and sold in bulk.
---
Details
---
Dates
circa 1967-1972
printed circa 2000
---
Media category
---
Materials used
photomontage as type C photograph
---
Edition
AP 1 from edition of 10 + 2AP
---
Dimensions
99.5 x 77.0 cm
---
Credit
Gift of Geoff Ainsworth AM 2018. Donated through the Australian Government's Cultural Gifts Program