View More:
---
Title
The boat sheds, in violet red key
---
Artist
Roy de Maistre
Australia, England
27 Mar 1894 - 01 Mar 1968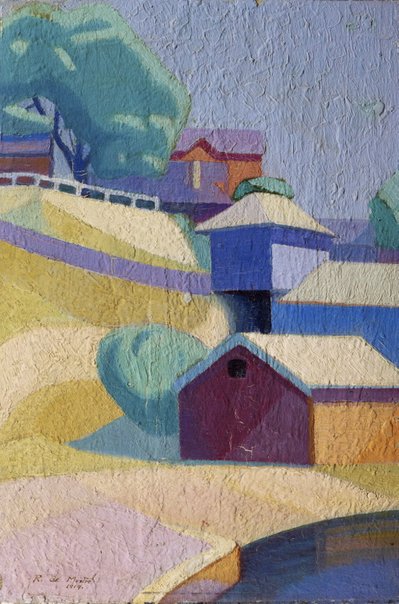 ---
About
From around 1917, Sydney artists Roy de Maistre and Roland Wakelin began exploring the power of colour to connect art and music. They experimented with colour to produce synaesthesia, the condition in which the stimulation of one sense leads to an automatic, involuntary response in another.
De Maistre was particularly interested in global theories of correspondences between colour and music. His compositions systematically represented music in terms of colour: colour signified particular musical notes, the depth and lightness of colour stood for pitch, and the varying saturation of colour corresponded with musical volume.
These experiments culminated in de Maistre and Wakelin's joint Colour in art exhibition in 1919 featuring small, colour-music 'syncromies' that prompted the first wave of abstract painting in Australia. While based on images of local scenes around Sydney's harbour landscapes (mainly around the Harbour's Berry's Bay), their works were intensely coloured, radically simplified and anti naturalistic.
'The boat sheds, in violet red key' is one of only three paintings known conclusively to have been included in this seminal exhibition of Australian modernism. The painting demonstrates de Maistre's new dealings with colour and simplified form – taking colour beyond descriptive towards constructive and decorative uses. In such works, de Maistre (and Wakelin) did not dispense with representational content to suggest musical form, but rather invited the viewer to see the landscape in terms of colour, light and geometrical simplification. In doing so, they assumed a more expressive, chromatically heightened sense of harmonious unity in their painting.
---
Details
---
Other Title
Boatsheds, Berry's Bay
---
Media category
---
Materials used
oil on hardboard
---
Dimensions
32.9 x 22.2 cm board; 46.0 x 35.0 cm frame
---
Signature & date
Signed and dated l.l., brown oil "R. de Mestre/ 1919.".
---
Location
---
Shown in 3 exhibitions
Exhibition history
---

Colour in art (1919), Gayfield Shaw Gallery, Sydney, 08 Aug 1919–Unknown

Colour in Art - revisiting 1919:

Sydney Moderns, Art Gallery of New South Wales, Sydney, 06 Jul 2013–07 Oct 2013
---
Referenced in 11 publications
Bibliography
---
Art Gallery of New South Wales, Art from Australia: 2016 calender, Sydney, 2015, n.apg. (colour illus.). month of March
Jean Campbell, Early Sydney moderns : John Young and the Macquarie Galleries 1916-1946, Sydney, 1988, n.pag. (illus.). titled 'Boatsheds, Berry's Bay'
Mary Eagle, Australian Modern Painting Between the Wars 1914-1939, 'De Maistre's war', pg. 43-52, Sydney, 1989, 42 (colour illus.), 43, 48, 209. titled 'Boat sheds, Berry's Bay'; plate no. 27
Heather Johnson, Roy de Maistre; The Australian years 1894-1930, 'Colour music 1919', pg. 29-38, 1988, 31, 33 (colour illus.). plate no. 7; titled 'Boat Sheds, Berry's Bay'
Heather Johnson, Sydney moderns: art for a new world, 'The colour in art exhibition: myth busting', pg. 50-55, Sydney, 2013, 52 (colour illus.), 312.
Denise Mimmocchi, Look, 'New to the collection: building up our holding of Sydney moderns', pg. 15-17, Sydney, Dec 2014-Jan 2015, 15 (colour illus.), 16.
Gayfield Shaw (Compilator), Colour in art, Sydney, 1919, n.pag.. cat.no. 5; priced 15 gns
Daniel Thomas AM (Editor) and Ron Radford (Assistant Co-ordinator), Creating Australia: 200 years of art 1788-1988, Melbourne, 1988, 150 (colour illus.).
Nick Waterlow and Annabel Pegus (Curators), Symposium papers: Colour in art - revisiting 1919 & R-Balson, 'Original 'Colour in art' 1919 exhibition catalogue', pg. 3-5, Sydney, 2008, front cover (colour illus), 5, 8, 37 (colour illus.), 62.
Donald Williams, Look again! An appreciation of art, 'Looking at colour: colour and the artist using colour', pg. 1-10, Mar 1994, v (colour illus.), 8, 9 (colour illus.), 10. education textbook
J.F. Williams', Art and Australia, 'Modernism & the lost generation', pg. 52-59, Sydney, Spring 1991, 52, 53 (colour illus.). titled 'Boat sheds, Berry's Bay'