View More:
---
Title
Portrait (Full face of Norman C. Deck)
---
Artist
Harold Cazneaux
New Zealand, Australia
30 Mar 1878 - 19 Jun 1953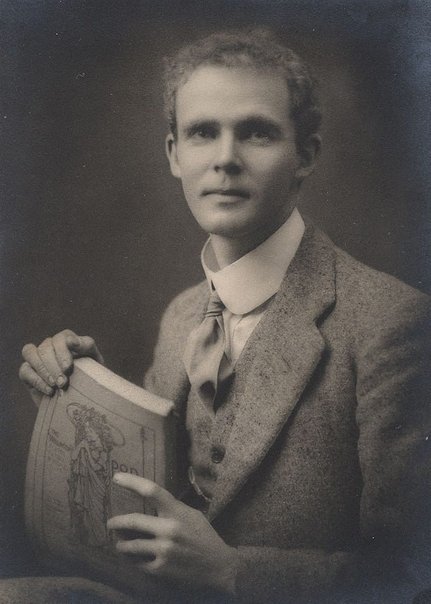 ---
About
Norman Cathcart Deck was the youngest member of the Photographic Society of New South Wales (PSNSW), joining in 1896 the age of fourteen, and an active member of other smaller photographic associations such as the Ashfield Camera Club. He studied dentistry at the University of Sydney, graduating in 1906. Deck exhibited a solo show of his pictorialist inspired landscape photographs in 1912 hosted by the PSNSW 1. From 1913 to the mid-1940s he lived and worked as a missionary in the Solomon Islands. This is one of two portraits of Deck at the age of 24, in the peak of his early career, taken by Cazneaux. Deck is portrayed as an unassuming subject. He sits clutching a heavily-bound book, the cover illustrated with the caricature of a Greco-Roman goddess. He is well-dressed in a thick woollen three-piece suit, with silk tie and a stiff collar that sits slightly too big on his neck. Deck's posture is somewhat slumped but he gazes intently at the camera. Cazneaux has touched up the portrait during the resolution process so that a soft light haloes Deck's head, on the otherwise flat backdrop.
Harold Cazneaux was born in Wellington, New Zealand in 1878. His parents, Pierce Mott Cazneau and Emma Florence (née Bentley) worked in commercial studios in New Zealand before returning to settle permanently in Adelaide during the early 1890s. At the age of 18 Cazneaux went to work alongside his father at Hammer & Co studio as a retoucher. He moved to Sydney in 1904 to join the larger portrait firm, Freeman's quickly ascending to the position of 'chief operator' (as camera portraitists were known). Studio work was highly formulaic, with little scope for creativity. Cazneaux used his time walking to and from work to experiment with pictorialist aesthetics 2. The PSNSW organised an exhibition of Cazneaux's photographs in 1909, the first such solo exhibition of its kind in Australia. In 1916 he and fellow pictorialist photographer, Cecil Bostock founded the Sydney Camera Circle. The group was particularly interested in the how pictorialism could be adapted to and extended within an Australian context. The mechanised, standardised and frenetic pace of Freeman's increasingly took its toll on Cazneaux's creativity and health, and he resigned in 1917. He moved with his wife and daughters to the Sydney suburb of Roseville, and in 1920 he was employed as the official photographer for The Home magazine. This new position let him work in a varied indoor and outdoor environments. In 1938 Cazneaux was awarded an Honorary Fellow of the Royal Photographic Society of London. He continued to work until his death in 1953.
1. Gael Newton, 'Australian Pictorial Photography: A survey of art photography from 1898 to 1938', Art Gallery of New South Wales, Sydney p 8
2. Newton G 1988, 'Shades of Light: Photography and Australia 1839-1988', Australian National Gallery, Canberra p 85
---
Details
---
Media category
---
Materials used
gelatin silver photograph
---
Dimensions
14.8 x 10.7 cm image/sheet; 29.1 x 17.8 cm card 1; 31.8 x 19.2 cm card 2
---
Signature & date
Signed l.r. card 1, pencil "H. Cazneaux". Not dated.
---
Credit
Gift of Norman Deck 1980