View More:
---
Title
David cutting off the head of Goliath
---
Artists
Giovanni Battista Scultori
Italy
1503 - 1575
after Giulio Romano
Italy
1499 - 1546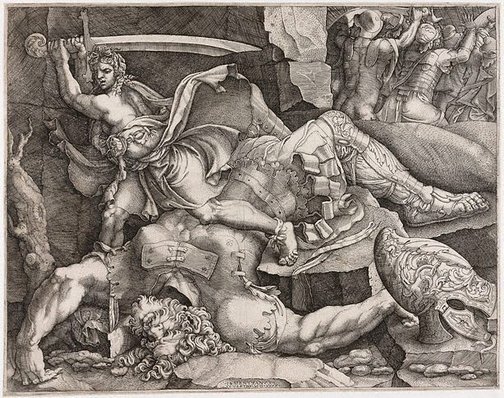 ---
About
An artist of wide and varied talents, Giulio Romano went to Mantua in 1524 at the invitation of Federico II Gonzaga and was named superintendent of all artistic works in the Mantuan state. His first and most important project was the design and decoration of the duke's sumptuous new suburban villa, the Palazzo del Te. But before coming to this northern Italian court, Giulio had been Raphael's most favoured pupil and assistant in Rome. As Raphael's artistic inheritor, Giulio would have learnt the significant role engraving played in making the master's designs well known across Italy and the rest of Europe, and in propagating his artistic fame. Raphael's collaboration with engravers who reproduced his inventions (usually in the form of purpose-made drawings) and duplicated them as printed images, marks a new development in the history of printmaking: the emergence of the so-called 'reproductive print'. From the 16th century onwards, reproducing works created in media other than engraving became the primary function of printmaking in Europe.
Giulio's workshop was set up along the lines of his master, Raphael's, and one of the young artists he engaged in Mantua was the engraver Giovanni Battista Scultori. Scultori was already an accomplished draughtsman and sculptor, having assisted Giulio with the stucco decorations in the Palazzo del Te. He probably learnt the art of engraving from Agostino dei Musi, a follower of Marcantonio Raimondi, who had arrived in Mantua following the Sack of Rome in 1527. Although not a prolific printmaker – he is the author of no more than 21 plates based on Giulio's as well as his own inventions – Scultori is nonetheless regarded as the founder of a flourishing school of reproductive engraving in Mantua, whose members included Giorgio Ghisi, as well as his own children, Adamo and Diana Scultori, whom he trained.
The subject of this robust engraving depicting David cutting off the head of Goliath derives from the first Book of Samuel in the Old Testament, which describes the young Israelite shepherd, David, taking up his slingshot and striking Goliath's forehead with a stone. He then quickly seizes the Philistine warrior's sword, beheads him, and the entire Philistine army is routed. The engraving relates to a painted lunette of the same subject in the loggia of the Palazzo del Te. There are, however, a number of differences between fresco and engraving: David appears a much less diminutive figure in the painted version, brandishing the sword with one hand while using the other to clench the giant's head. Nor does the fresco represent the fleeing Philistine army, which is seen in the right background of the print, or various other details such as Goliath's helmet.
The engraving is almost certainly based not on the fresco itself but on a drawing (now lost) by Giulio connected with it. Even so, Scultori does not acknowledge the name of the inventor on the image, suggesting that the print might have been intended as a freely interpreted derivation inspired by Giulio's design, rather than a precisely recorded reproduction of it.
Peter Raissis, Prints & drawings Europe 1500–1900, 2014
---
Details
---
Alternative title
David and Goliath
---
Media category
---
Dimensions
35.9 x 45.4 cm platemark (irreg.); 36.2 x 45.7 cm sheet (irreg.)
---
Signature & date
Not signed. Not dated.
---
Credit
Gift of Margaret Delmer 1985
---
Shown in 5 exhibitions
Exhibition history
---
Referenced in 8 publications
Bibliography
---
Gioconda Albricci, The engravings of GB Scultori, 1976, pp 27-29. no 6
Art Gallery of New South Wales, Five years on: a selection of acquisitions 1981-1986, Sydney, 1986. cat no 185
Nicolas Draffin, Piety and Paganism, 'Introduction', pg. 3-5, Sydney, 1991, illus p 3-4, p 10. no catalogue numbers
Stefania Massari, Giulio Romano pinxit et delineavit, Rome, 1993, p 109. no 101
Peter Raissis, Look, 'Old Europe: rarely seen prints and drawings on show', pg. 23-25, Sydney, Jun 2006, illus p 23.
Peter Raissis, Prints & drawings Europe 1500-1900, Sydney, 2014, p 28, col illus p 29.
Peter Raissis, Mantegna to Piranesi - Italian old master prints from the collection of the Art Gallery of New South Wales, Sydney, 1998, p 8. no catalogue numbers
Adam von Bartsch, Le peintre graveur [21 vols], Vienna, 1803-1821, vol XV, p 379. no 6