View More:
---
Title
Legalise cannabis: the putting together of the heads
---
Artist
Martin Sharp
Australia
21 Jan 1942 - 01 Dec 2013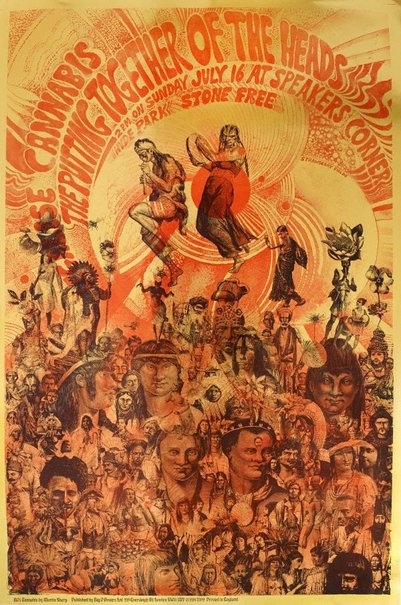 ---
About
A major figure of Australian pop art during the 1960s and 70s, Martin Sharp is renowned for his cartoons, collages, paintings and designs for posters and album covers epitomising pop's rejection of tradition and its love of colour, figuration and irony.
Sharp is internationally recognised for the originality and impact of the psychedelic images he created whilst living in London during the 1960s, when he was working as art director of the underground magazine Oz with Richard Neville and others. Oz epitomised the anti-establishment era of the 1960s with its irreverent, satirical and often controversial take on topics as diverse as police brutality, censorship, homosexuality and abortion.
During his time in London, Sharp established a strong reputation as a graphic artist, designing psychedelic posters and album covers for musicians and bands including Bob Dylan and Cream. His poster designs in the so called 'decadent' graphic style inspired Oz magazine associate Peter Ledeboer to set up Big O Posters in September 1967, to produce, promote and distribute all his work in this sphere and a number of these images (including 'Jimi Hendrix') are regarded as icons of the era.
This poster was made to advertise a rally in Hyde Park, London - one of a number held at the time to campaign for the legalisation of cannabis and to protest against the tightening of anti-drug legislation. Sharp's design incorporates images from 19th ethonographic engravings of South American Indians to create an image of the exotic. The poster was not ultimately seen on the streets of London, as the billposter employed to put it up, sold all of the stock instead.
---
Details
---
Other Titles
The Putting Together Of The Heads
The Gathering of the Heads
Cannabis - The Putting Together of Heads
Gathering of the Tribes
---
Media category
---
Materials used
screenprint, printed in black and orange ink from two stencils, on gold foil laminated paper
---
Dimensions
73.4 x 48.2 cm image; 76.0 x 50.7 cm sheet
---
Signature & date
Not signed. Not dated.
---
Credit
Tony Gilbert Bequest Fund 2014
---
Place
Where the work was made
London
---
Shown in 2 exhibitions
Exhibition history
---

Survey 14: Martin Sharp, National Gallery of Victoria [St Kilda Road], Melbourne, 15 May 1981–04 Jul 1981

Pop to popism, Art Gallery of New South Wales, Sydney, 01 Nov 2014–01 Mar 2015
---
Referenced in 12 publications
Bibliography
---
Mike Evans, The art of British rock: 50 years of rock posters, flyers and handbills, 'Draw the dream', pg. 46-73, London, 2010, 69 (colour illus.). not AGNSW impression; titled 'Gathering of the Tribes'
Anthea Gunn, Journal of Australian studies, A-changin' times: the art of Martin Sharp in the 1960s', pg. 179-192, London, Jun 2010, 186. general reference
Norman Hathaway, Electrical banana: masters of psychedelic art, "Martin Sharp', pg. 36-61, Bologna, 2011, 59 (colour illus.). not AGNSW impression
Karen Hughes., The Australian, 'Artist on the street', Sydney, 11 Feb 1981, page number unknown. general refernce to 'Legalise Pot rally in Hyde Park' works.
Richard Neville, The everlasting world of Martin Sharp: paintings from 1948 to today, 'A curiosity in his own land', pg. 4-5, Sydney, 2006, 4. titled 'The Gathering of the Heads'
Just for fun: the prints of Martin Sharp, 'Notes on key works', pg. 7-8, Adelaide, 2000, 7. not AGNSW impression; titled 'Cannabis (The putting together of the heads)'
Michael Organ., http://sixtiessharp.blogspot.com.au/, 'Sunshine Superman', Bulli, 29 Dec 2013, n.pag. (colour illus.). viewed 31.01.2014, http://sharpsunshinesuperman.blogspot.com.au/2013/12/martin-sharps-sunshine-superman-1967.html
I had a dream: Australian art in the 1960s, Melbourne, 1997, 73, 74 (colour illus.). not AGNSW impression; titled 'Cannabis'
Survey 14: Martin Sharp, Melbourne, 1981, n.pag.. not AGNSW impression; cat.no. 52; titled 'Cannabis - The Putting Together of Heads'; dated 1968
Wayne Tunnicliffe, Pop to popism, ''The easel did not go pop: it went bang!': Australian pop art', pg. 137-186, Sydney, 2014, 168 (colour illus.), 304, 325.
High art: a history of the psychedelic poster, 'Swinging London', pg. 113-132, London, 1999, 124 (colour illus.), 129, 143. not AGNSW impression; titled 'The Putting Together Of The Heads'
Unknown, http://sixtiessharp.blogspot.com.au/, 'Sixties Shar, p -, Bulli, 29 Jun 2013, n.pag. (colour illus.). viewed 21.01.2014, http://sixtiessharp.blogspot.com.au/