View More:
---
Artist
Robert Owen
Australia
29 Jun 1937 -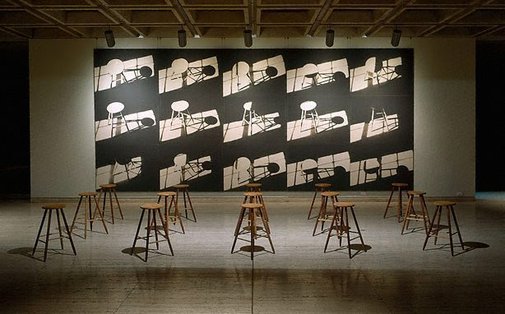 ---
About
Like many of his generation, Robert Owen left Australia as soon as he finished art school. He spent three years in Greece, where he responded not only to the unique quality of Aegean light but to the myths and rituals that permeate life in the island communities. He also had time to think about the philosophical legacy of Greek culture and the way it was so tightly woven into the mystical traditions. Logic and intuition were not seen as incompatible but as dual aspects of the nature of consciousness. This remains a key to understanding much of Owen's work to this day.
After Greece Owen moved to England, where he lived from 1966 to 75. These were heady days in London with conceptual art intersecting kinetic and cybernetic art. There was also an ethos of artists embracing systems and orderly processes that was reflected in the important place of basic design in English art schools since the early 1960s. Owen was undoubtedly influenced by this atmosphere and also engaged with arts and industry initiatives, leading to his use of some highly experimental materials.
Back in Australia his art has continued to embrace the apparent opposites of relatively pared back conceptual art and profoundly rich poetic installations, suggestive of ancient ritual. 'Apposition', for example, looks at first like a conceptual work but unpacks into a profoundly cosmic adventure. The work consists of three elements: the first is a set of 15 Polaroids of a stool taken as the sun moved past the window casting shadows that rotate around the stool's axis; the second is an installation of 15 stools arranged in a grid of three rows of five and lit with a strong spot that casts their shadows clearly on the floor; and the third is a series of paintings hung on the wall behind the stools that reflects the real scale of the stools but in the configuration of the photos. This juxtaposition of document with object and its representation recalls Joseph Kosuth's 'One and three' series.
It was something of a romantic epiphany that set Owen taking a series of photos of the kitchen stool and its moving shadow but it was also a systemic or conceptual action. The constellation of stools suggests to us the motion of the earth around the sun with all the vertiginous effect that can have for the viewer. Artist Mike Parr noted that when he looked at the work, 'The world spun and we gripped the rim of paradox'.1
In 2005 the gallery acquired 'Tears of history', part of a series representing Owen's response to the stolen generation, the Aboriginal children who were removed from their families under government policies between approximately 1900 and 1972. The polished granite stones (tear drops and also perhaps time capsules) are clustered on the floor, each one a different size and part of a potentially infinite range of individual stones. They are lozenge shaped, almost, but not quite the form of lingam stones collected from the Ganges. There is a system that governs their scale and yet the arrangement is more-or-less random. They constitute a community of forms and a landscape perhaps: a reflection of the original state of harmony Indigenous communities maintained with their world.
1. Mike Parr in 'Aspect Magazine', vol 5, no 3, 1980
© Art Gallery of New South Wales Contemporary Collection Handbook, 2006
---
Details
---
Media category
---
Materials used
15 wooden stools, 5 paintings (synthetic polymer paint on canvas), framed gelatin silver photographs and text (1 unit)
---
Dimensions
Stools: overall area 200.0 x 500.0 cm; Paintings: overall 273.0 x 613.0 cm :
a-o - 15 stools, 62 x 40 x 40 cm, each
p-t - 5 paintings, 273 x 122.5 cm, each
u - framed photographs and text (1 unit), 94.5 x 155.5 x 3 cm, frame
---
Signature & date
Signed and dated verso stool seat [nos.a-o], ink ".../ 1979-80/ Robert Owen/..." and u.r. verso framed photographs, ink "Robert Owen 1980".
---
Accession number
224.1983.a-u
---
Shown in 2 exhibitions
Exhibition history
---
Referenced in 7 publications
Bibliography
---
George Alexander, Robert Owen: different lights cast different shadows, the 2nd Balnaves Foundation Sculpture Project, 'Robert Owen interviewed', pg.21-25, Sydney, 2004, 23 (colour illus.). this work is referred to in the catalogue but was not exhibited
Anthony Bond, Art Gallery of New South Wales handbook, 'Contemporary', pg. 94-108, Sydney, 1988, 102 (illus.), 103.
Anthony Bond and Victoria Lynn, AGNSW Collections, 'Contemporary Practice - Here, There, Everywhere ...', pg. 229-285, Sydney, 1994, 241 (colour illus.).
Anthony Bond, Contemporary: Art Gallery of New South Wales Contemporary Collection, 'Objects and associations', pg.332-381, Sydney, 2006, 360, 361 (colour illus.).
Tony Bond, Contemporary Australian painting, 'The survival of realism in the avant-garde', pg. 83-104, Sydney, 1990, 102 (illus.).
Suzi Gablik, Art and Australia (Vol. 18, No. 4), 'Report from Australia', pg.352-355, Sydney, Winter 1981, 352-355, 355 (illus.).
Bernice Murphy, Australian Perspecta 1981, Sydney, 1981, 114-115 (illus.). cat. no. 94