View More:
---
Artist
Joan Ross
Australia, Scotland
1961 -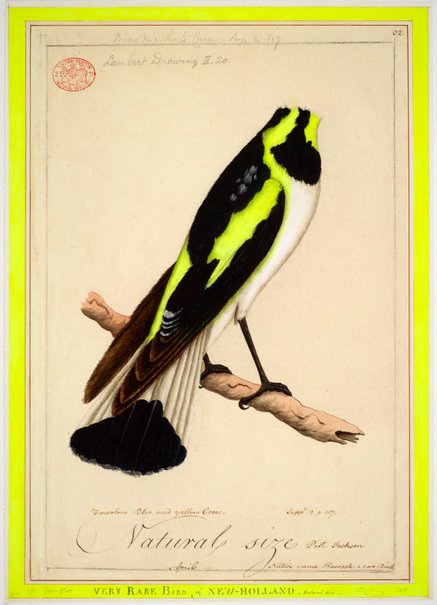 ---
About
This suite of hand-coloured digital prints quote images of Australian birds made at the time of early European settlement in Australia. Ross has digitally altered the images, most noticeably by lopping off the heads of each bird and overpainted each print in her signature hi-viz yellow.
Ross has used the headless bird motif in a number of works in which she transforms historical images of creatures captured, classified and studied by the first Europeans on the Australian continent. These works suggest the impact of colonisation and modern consumer/capitalist culture on Australia's environment and Indigenous people, plants and animals.
The images Ross has quoted here include three watercolours by English midshipman and natural history painter George Raper (c.1769-1797) who was an on board the Sirius when it arrived as part of the second fleet to Sydney in May 1789, and again on the Supply in February 1791. (There are three known volumes by Raper on the flora, fauna and other subjects of Port Jackson, and Norfolk and Lord Howe Islands in the Mitchell Library, Natural History Museum, London and Alexander Turnbull Library, National Library of New Zealand/Te Puna Mātauranga o Aotearoa).
Some of the animals depicted by Raper are now extinct; the images chosen by Ross are all from the collection of the Natural History Museum, London and include the 'New Holland sparrowhawk', 'Bird and flower of Port Jackson' (Channel-billed Cuckoo Scythrops) and 'Blue and white crow, native name Karrook' (Magpie).
A native quotes an engraving of a Lyrebird in the second volume of a book published in 1802 by David Collins, an officer on the First Fleet, titled 'An account of the English colony in New South Wales'. The text in the book's conclusion describes the bird, including the specimen from which the drawing for the engraving was taken; "…a beautiful stuffed Maenura superba in the collection of Mr Arthur Harrison…which was presented to that gentleman by Governor Hunter".
---
Details
---
Shown in 1 exhibition
Exhibition history