View More:
---
Title
"Sin Phii" (ceremonial tube-skirt)
late 19th century-early 20th century
---
Artists
Unknown Artist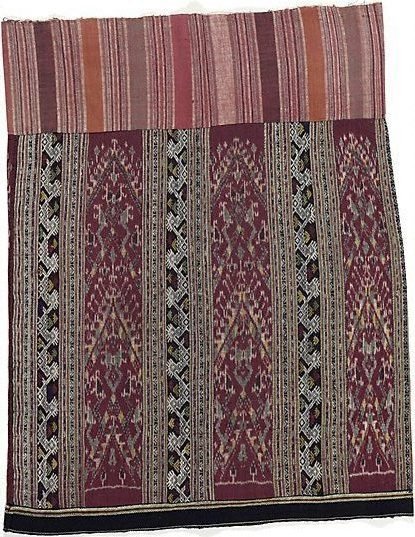 ---
About
The Tai Neua are a sub-group of the Tai language family. The Tai live in a broad region stretching from Eastern India to Southwestern China and Northern Vietnam. Ceremonial skirt cloths, with their specialised patterns of 'nagas' (mythical serpents), house structures, and the funeral tree, are used by shamans. Women also weave such textiles to give to their daughters-in-law, who then wear the skirts to the weaver's funeral and are dressed in them for their own burials. As usual, this ceremonial skirt comprises three sections. The top is composed of silk and cotton yarns decorated with stripes. The warp threads are orange, and the weft ones are green, orange, brown, and white. This part of the textile would have been changed regularly due to wear and tear on the fabric during use. The band at the base of the skirt is mostly indigo-blue cotton with narrow stripes of red, green, white, and yellow. These two parts are stitched onto the central section which is the most important part of the skirt. The middle section has red warp yarns and red and indigo wefts. The red sections are decorated with the 'ikat' technique (tie-dyeing prior to weaving). The motifs are house roofs and 'nagas' (mythical serpents). 'Nagas' are thought to live in water, and they protect people and bring rain for crops. Sometimes temple roofs display naga sculptures. In this context, the naga represents both male and female, and forms a connection between earth and the heavens. The indigo-blue sections are part cotton and part silk. They are decorated with the mythical elephant-bird ('saang hong') in continuous and discontinuous supplementary weft weaving in white, red, green, and yellow threads. The 'saang hong' represents the combination of male and female elements, as well as the afterlife, and, in Buddhist beliefs, it comes from one of the heavens. These are all appropriate images to include on a textile used for contacting the spirit world and funerals. The stripes that separate the wide red and blue bands are composed of stylised floral motifs produced with continuous supplementary weft weaving. The decoration of the stripes also includes the ikat technique and continuous supplementary weft weaving in yellow, red, green, brown, and white.
Asian Art Department, AGNSW, October 2011
---
Details
---
Other Title
pha sin (ceremonial skirt) with alternating red silk ikat and supplementary weft decorated panels
---
Place where the work was made
---
Cultural origin
---
Date
late 19th century-early 20th century
---
Media category
---
Materials used
silk, cotton, natural dyes; ikat, discontinuous supplementary weft weaving.
---
Dimensions
68.5 x 85.0 cm tube (irreg.)
---
Credit
Gift of Nomadic Rug Traders 2003
---