View More:
---
Title
Decorative end piece of a 'phaa biang' (ceremonial scarf) with banded design of stylised birds and animals
---
Artists
Unknown Artist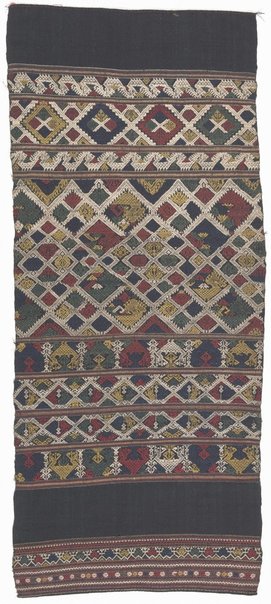 ---
About
The 'Tai Neua' are a sub-group of the Tai language family. The Tai live in a broad region stretching from Eastern India to Southwestern China and Northern Vietnam. Before the easy availability of printed cotton, Lao-Tai women produced all the textiles for the home. Lao-Tai women wrap phaa biang cloths around one shoulder and the torso. These cloths are also used for healing practices ('phaa sabai'), as head wraps ('phaa khan soeng'), and as shoulder cloths ('phaa phai'). As a curative cloth, the textile was believed to be powerful enough to help the healing process through its combination of colours and motifs. Phaa biang are composed of several sections, and as sections become worn, they are replaced with new weavings. This is probably one such replacement.
This 'phaa biang' has indigo-blue warp and weft threads. The decoration is composed of supplementary weft yarns in different colours. The white threads stretch across the entire textile and are called continuous supplementary weft, while the other colours are only used in parts, so are discontinuous supplementary weft yarns. Most of the patterned area is covered by diamond motifs, but there are also birds and the popular elephant-bird ('saang hong'), a mythical creature associated with spirits and the heavens.
Asian Art Department, AGNSW, December 2011
---
Details
---
Cultural origin
---
Media category
---
Materials used
silk, natural dyes; continuous and discontinuous supplementary weft decoration
---
Dimensions
45.0 x 105.0 cm
---
Credit
Gift of Nomadic Rug Traders 2003
---