View More:
---
Title
'Phaa tuum' (shoulder-wrap blanket) with a chequered pattern
mid 19th century-early 20th century
---
Artists
Unknown Artist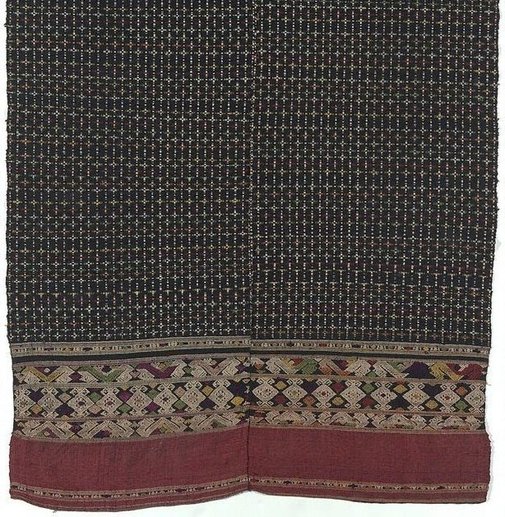 ---
About
The Tai Neua are a sub-group of the Tai language family. The Tai live in a broad region stretching from Eastern India to Southwestern China and Northern Vietnam. Before the easy availability of printed cotton, Lao-Tai women produced all the textiles for the home, including mattresses, pillows, clothing, and decorative pieces. The blankets, often decorated with key and swastika patterns, as well as chequered designs, are made of at least two pieces of fabric separately woven on a back-strap loom (instead of a wooden frame, the loom is held taut by a strap that passes around the weaver's back). Blankets are necessary as the nights can be cold in the highlands of Laos.
This is a 'phaa tuum' (shoulder-wrap blanket) produced in a Sam Nuea style. As typical of such blankets, this one is made of two pieces of silk cloth joined together down the centre. The textile has indigo-dyed warp threads, and the main section is decorated with continuous supplementary weft and warp threads. These extra warp threads are cream coloured, and the extra wefts are of varying colours. The regular weft threads are also indigo coloured. The end panel has weft threads of varying colours. There are continuous and discontinuous supplementary weft threads. The former are red, green, orange, cream, and indigo, and the latter are green, orange, cream, red, yellow, and purple. The designs on the end panel include double-headed crested 'nagas' (mythical serpents that play an important role in the Tai belief system), an eight-point stars inside diamonds with double hooks at each end, stripes, and other geometric shapes.
Asian Art Department, AGNSW, December 2011
---
Details
---
Other Title
Pha hom (blanket) with check pattern in a discontinuous weave
---
Cultural origin
---
Date
mid 19th century-early 20th century
---
Media category
---
Materials used
silk, natural dyes; continuous and discontinuous supplementary weft weaving, continuous supplementary warp weaving
---
Dimensions
83.0 x 170.0 cm
---
Credit
Gift of Nomadic Rug Traders 2003
---