View More:
---
Artists
Marina Abramovic
Yugoslavia
30 Nov 1946 -
Ulay
Germany
30 Nov 1943 - 02 Mar 2020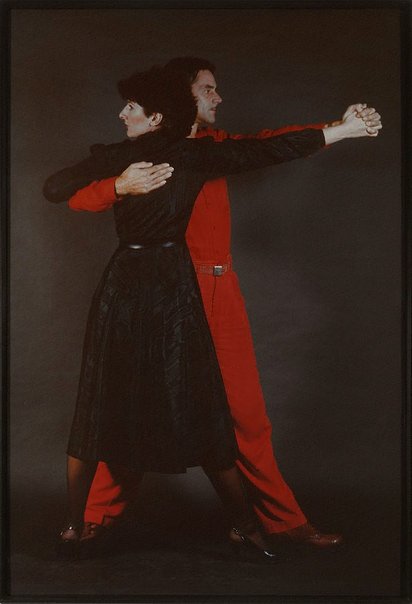 ---
About
Photograph taken by John Lethbridge for Marina Abramovic and Ulay.
This photograph was used in the 1981 action 'Gold found by the artists' performed at the Art Gallery of NSW, but is a record of another action 'Anima mundi: tango' performed at the First Australian Sculpture Triennial, Latrobe University, Melbourne in 1981.
Marina Abramovic is a performance artist who pushes her body to extreme levels of physical and mental endurance. In her early performances in Belgrade, she subjected her body to various forms of pain or danger, in some to the point where the performances reached their conclusion only when she lost consciousness or through the intervention of an audience overcome by the tension of witnessing her actions. In 1975 Abramovic met the German artist Ulay (Frank Uwe Laysiepen), who shared her artistic vision and for the next 13 years they lived and worked together, travelling around the world, performing and exhibiting their photographs and videos. Many of their joint performances also entailed endurance and pain with the added dimension of exploring the empathy and tension between male and female.
Abramovic and Ulay first came to Australia in 1979 for the 3rd Biennale of Sydney. Inspired by a brief trip to Central Australia, they returned in 1980 to spend five months in the Australian outback. Travelling between various Aboriginal communities, they spent long periods alone in the desert, much of the time sitting in the shade in silence, exhausted by the heat of the day. Unlike many of their joint performances that involved a form of mental communication and mutual trust to create unity in front of an audience, they were now alone.
It was during their time in the desert that they first conceived of the performance 'Gold found by the artists' that was to become the first of a series of 22 performances collectively titled 'Nightsea crossing' staged in various locations around the world between 1981 and 86. For the first performance, held at the AGNSW, the artists sat opposite each other at a table in silence, for the seven hours that the gallery was open to the public, every day for 16 days. Abramovic was dressed entirely in black and Ulay in red. Between them on the black painted table were 250 grams of gold nuggets, which they had found in the desert, an Aboriginal boomerang covered in 24-carat gold leaf and a live diamond-back python. After each day they returned directly to their lodgings and consumed nothing but water: endurance performances often involve fasting as a way of purifying the body and in some cases where a performance goes for days at a time, it is necessary for purely practical metabolic purposes.
The culmination of these performances was their final work together, 'The lovers: the Great Wall walk' 1987, which marked their mutual decision to separate. Each starting at either end of the Great Wall of China, they walked 2000 kilometres over 90 days to meet in the middle and say goodbye.
© Art Gallery of New South Wales Contemporary Collection Handbook, 2006
---
Details
---
Other Titles
Similar illusion
No tango
---
Alternative title
Anima mundi: tango
---
Media category
---
Materials used
Cibachrome photograph
---
Dimensions
157.2 x 108.7 cm frame
---
Signature & date
Not signed. Not dated.
---
Accession number
211.1981.1
---
Shown in 4 exhibitions
Exhibition history
---
Referenced in 10 publications
Bibliography
---
Josée Bélisle, Le Journal du Musée d'Art Contemporain de Montréal, 'Exhibitions: The Meteoric Journey of Marina Abramovic and Ulay', Canada, Jan 1991-Mar 1991, 1-2.
Charles Green, Art Journal, 'Doppelgangers and the Third Force: The Artistic Collaborations of Gilbert & George and Marina Abramovic/Ulay', pg.37-45, New York, Summer 2000, 38, 40-41.
Charles Green, The third hand: collaboration in art from conceptualism to postmodernism, 'Missing in action: Marina Abramovic and Ulay', pg.157-177, Minneapolis, 2001, 156 (illus.), 157-158, 168, 170-173, 175-176, 180, 185-186. These two chapters refer to the 'Gold Found by the Artists' action and the 'Nightsea Crossing' series of performances.
Bernice Murphy, Australian Perspecta 1983, Sydney, 1983, 16.
Bernice Murphy, Art and Australia (Vol. 19, No. 3), 'Gold found by the Artists', pg. 340-342, Sydney, Autumn 1982, 340-342, 341 [illus.].
Mike Parr, Flash Art, Australia: 'Marina Abramovic & Ulay', pg.60, Milan, Dec 1981-Jan 1982, 61.
Jennifer Phipps, Art and Text, 'Marina Abramovic/ Ulay, Ulay/ Marina Abramovic', pg. 43-50, Prahran, Spring 1981, 43-50.
Gijs van Tuyl, Contemporary Art from the Netherlands: A selection by John Hallmark Neff, Chicago, Mar 1982, 59-67 (illus.).
Michael Wardell, Contemporary: Art Gallery of New South Wales Contemporary Collection, 'Ideas and actions', pg.60-107, Sydney, 2006, 66, 67 (colour illus.).
Author Unknown, Abramovic, 1993, 172, 173 (illus.), 180, 181 (illus.).