View More:
---
Title
'Phaa hom' (blanket) with lattice pattern
early 19th century-mid 19th century
---
Artists
Unknown Artist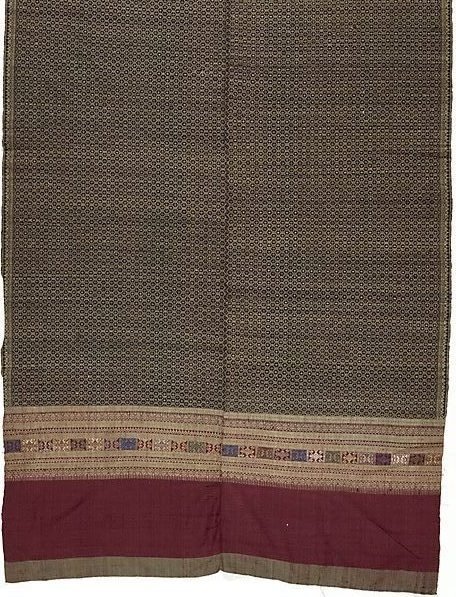 ---
About
The Tai Neua are a sub-group of the Tai language family. The Tai live in a broad region stretching from Eastern India to Southwestern China and Northern Vietnam. Tai Neua women from Laos made the textiles on display. Before the easy availability of printed cotton, Lao-Tai women produced all the textiles for the home, including mattresses, pillows, clothing, and decorative pieces. The blankets, often decorated with key and swastika patterns, are made of at least two pieces of fabric, and are necessary as the nights can be cold in the highlands of Laos. Men and women wear ankle- or calf-length tube-skirts, although the decoration is different for each gender. For women, the skirt is finished with a separately woven border, either a black band with a few coloured stripes or an elaborately decorated wide band. Colours and patterns are dictated by the wearer's age, with young people wearing bright colours and large patterns, and middle-aged and elderly people favouring small patterns and subdued colours. Ceremonial skirt cloths, with their specialised patterns of 'nagas' (mythical serpents), house structures, and the funeral tree, are used by shamans. Women also weave such textiles to give to their daughters-in-law, who then wear the skirts to the weaver's funeral and are dressed in them after their own deaths.
This blanket came from the court at Luang Prabang in northern Laos. As usual, it is made of two pieces of fabric. The warp threads are red throughout the textile and the wefts are of various colours. On the body of the textile the weft threads are a dark indigo colour, while the lattice pattern is made of golden-yellow continuous supplementary weft yarns. The pattern ('soi saa') edging the lattice relates to Thai and Cambodian ikat textile border designs and may be a protective motif. The end panel also has this pattern, as well as floral and geometric motifs. The designs are formed of continuous and discontinuous supplementary weft threads in red, green, blue, and yellow colours. There are also metal-wrapped yarns to add glitter to the textile. The regular weft threads are primarily red.
Asian Art Department, AGNSW, December 2011
---
Details
---
Other Titles
Pha hom with brocade patterning
Pha hom (blanket) with brocade patterning
---
Place where the work was made
---
Cultural origin
---
Date
early 19th century-mid 19th century
---
Media category
---
Materials used
Silk, natural dyes, metal-wrapped thread; continuous supplementary weft weaving
---
Dimensions
106.0 x 203.0 cm
---
Credit
Gift of Nomadic Rug Traders 2003
---
---
Shown in 1 exhibition
Exhibition history