View More:
---
Title
'Phaa tuum' (shoulder-wrap blanket) with a fern pattern ('kuut lek fai') and an elephant-bird with rider ('saang hong')
---
Artists
Unknown Artist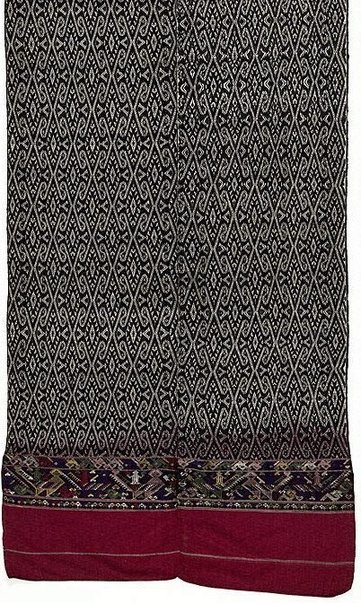 ---
About
The Tai Neua are a sub-group of the Tai language family. The Tai live in a broad region stretching from Eastern India to Southwestern China and Northern Vietnam. Before the easy availability of printed cotton, Lao-Tai women produced all the textiles for the home, including mattresses, pillows, clothing, and decorative pieces. The blankets are made of at least two pieces of fabric separately woven on a back-strap loom (instead of using a wooden frame, the loom is held taut by a strap that passes around the weaver's back). Blankets are necessary as the nights can be cold in the highlands of Laos.
This blanket is made of two pieces of fabric. Before weaving one end of the yarns had red dye applied to it, a process called zone dyeing. The body of the piece has been decorated in black with a fern pattern called "kuut lek fai" using supplementary weft threads that reach across the width of the cloth (continuous). The end panel is decorated with discontinuous weft threads (extra yarn inserted during the weaving in one area only). The patterns include the mythical elephant-bird ("saang hong") with a feathery tail and a human rider, "naga" (mythical serpents) heads, flowers, and a narrow band of chicken-like birds.
Asian Art Department, AGNSW, December 2011
---
Details
---
Other Title
Pha hom with stylised design
---
Place where the work was made
---
Cultural origin
---
Media category
---
Materials used
silk, natural dyes; zone dyeing, continuous and discontinuous supplementary weft decoration
---
Dimensions
80.0 x 197.0 cm
---
Credit
Gift of Nomadic Rug Traders 2003
---
---
Referenced in 1 publication
Bibliography
---
Susan Scollay., Hali, 'The Art of Half the World', pg. 110-111, Mar 2004-Apr 2004, 110, 111 (colour illus.). no.4