View More:
---
Artist
John Young
Hong Kong, Australia
08 Feb 1956 -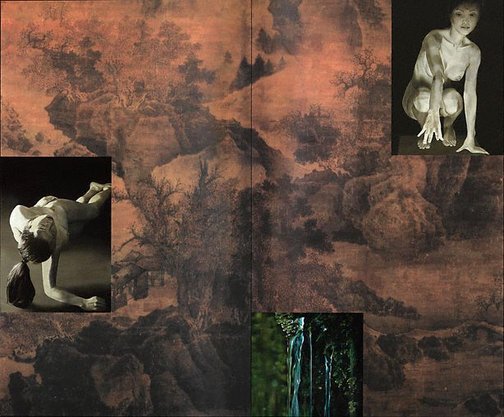 ---
About
John Young's work has an unabashedly theoretical and intellectual playfulness. Influenced by the conceptual painting of Imants Tillers and American David Salle, Young pursues the strategic placement of references to art history (conceptualism, the monochrome, minimalism, colour charts, the grid etc) alongside micro-details from both fine art and popular culture. Using tight compositional schemes with somewhat lavish sensual or sentimental content, Young manages at the same time to reinforce and undercut meanings. As a result it has always been hard to tell whether he is being opportunistic or iconoclastic, sincere or false, chancy or sublime.
This sense of dislocation is evident throughout his career in a number of self-referentially elegant series ('The silhouette paintings' 1986–89, 'The stoppages' 1987, 'The polychromes', 1987–92, 'Double ground' 1992–present, 'Square painting' 1995–present). Less a personal form of alienation, the works represent the dutiful outcome of a coolly administered external world, whether it is the art school, museum, market or corporation.
Young arrived in Australia from Hong Kong when he was eleven. He began making serious art work in the early 1980s after reading philosophy and aesthetics, in particular the Viennese philosopher Ludwig Wittgenstein's musings on the conundrums of life, art and language. Wittgenstein investigated the contradictions built into supposedly non-contradictory science and rationalism. Another influence in this early period was Paul Feyerabend, whose anarchist theory of knowledge embraced the cognitive value of mythical, even absurd, thinking. This nihilism was itself annulled by Young's spiritual interest in an Eastern mode to approaching problems: Zen and Taoism espoused the paradoxical tactics of strength through weakness, action through inaction.
Along the way Young's 'non-assertive' borrowing of images – not least his ongoing dialogue with the work of fauvist André Derain – has accumulated a subdued vocabulary of images, often blandly rendered nudes or slick details of landscapes. Commonly using art assistants to paint sections of his pictures, everything becomes surface and nothing dominates. The pictures seem full of self-cancelling moods, as the soft-focus images are invariably corseted by confining, rationalising grids.
More recently Young has juxtaposed generic forms of painting – academic nude, quaint still-life, Chinese nature painting, or 17th-century history painting – employing a digitally printed background (used in billboard-sized commercial posters) with a foreground of oil painted panels of photographic reproductions. Like 'Hermit painting #3', these pictures thus become meditations on the frameworks of representation, the plight of the Asian diaspora, and the role of memory and humorous mis-perceptions in contemporary cultural tourism.
© Art Gallery of New South Wales Contemporary Collection Handbook, 2006
---
Details
---
Date
Winter 1999-Spring 1999
---
Media category
---
Materials used
diptych: Vutak digital scan and oil on canvas
---
Dimensions
226.0 x 273.0 cm overall
---
Signature & date
Signed and dated verso panel [b], black marker "John Young/ Winter-Spring 1999".
---
Credit
Contemporary Collection Benefactors 2000
---
Accession number
205.2000.a-b
---
Shown in 1 exhibition
Exhibition history
---
Referenced in 1 publication
Bibliography
---