Title
ON THE EDGES OF DARKNESS - I
2016
Artist
Australia, Pakistan
1973 -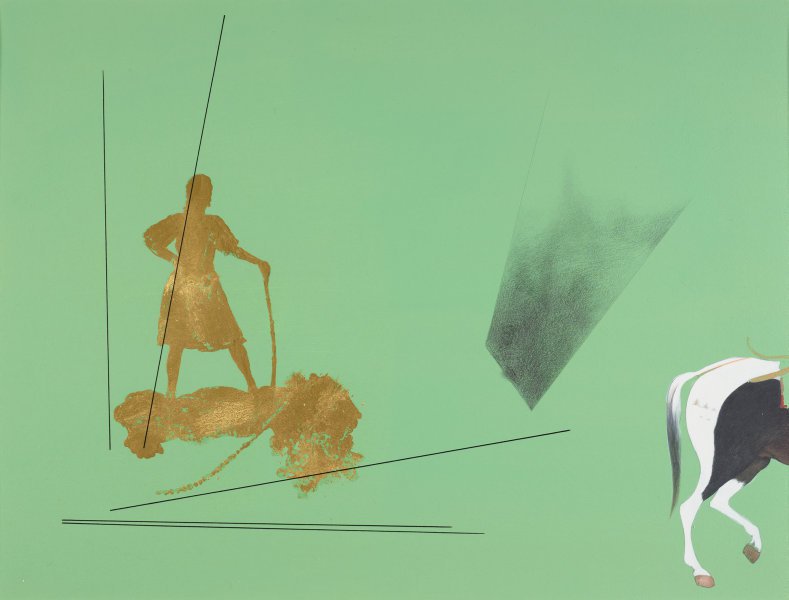 Details

Date

2016

Media categories

Materials used

acrylic, gouache, gold leaf and ink on illustration board

Dimensions

38.0 x 50.0 cm

Credit

Art Gallery of New South Wales, Bulgari Art Award 2019

Location

Not on display

Accession number

203.2019

Copyright

© Nusra Latif Qureshi

Artist information

Nusra Latif Qureshi

Works in the collection

Share

About

These powerful paintings have a dominant green field, a colour with which the artist feels a particular affinity. Against this background sparingly painted golden figures balance, sourced from 19th century photographs of acrobatic performers by Lala Deen Dayal (known as Raja Deen Dayal). In On the edges of darkness I 2016 a woman dominates a lion, while in On the edges of darkness II 2016 acrobats stand on each other's shoulders. Each balancing art required skill, concentration and expertise as the performers entertained on the streets, in the courts and for the colonists. A black shape in these works conveys a sense of loss, the edges of darkness of the title. The wounded snow leopard and the horse cut off by the edge of the work are both borrowed from early miniatures and here, removed from the context in which they were first painted, have an unexplained sense of violence.
Other works by Nusra Latif Qureshi