View More:
---
Artist
Ian Fairweather
Scotland, Australia
29 Sep 1891 - 20 May 1974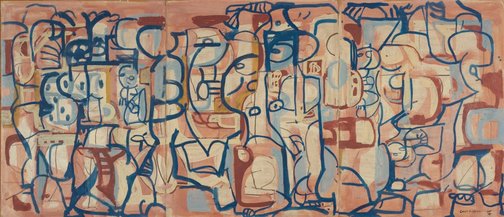 ---
About
After returning to Australia following his ill-fated raft journey to Timor in 1952, Ian Fairweather moved to Bribie Island in Queensland. Here he began a series of large religious paintings, of which 'Last Supper' is considered the finest.
Elements of his earlier travels through Asia, knowledge of calligraphy and exposure to contemporary European art all fuse in this work, one of Fairweather's earliest attempts at abstraction. The title refers to Christ's last meal with his 12 disciples, yet as Fairweather biographer Murray Bail observes:
In what would seem to be a complex repainting of Leonardo's full-frontal mural, Fairweather tilts the long table, but there is no clearly apparent Christ. Instead, two forces of waving hands and sandalled feet huddle on the left and right. The erupting bedlam suggests more the impending martyrdom of our Saviour by the mob …
---
Details
---
Other Title
The Last Supper
---
Place where the work was made
---
Media category
---
Materials used
synthetic polymer paint and gouache on three sheets of laid paper on hardboard
---
Dimensions
97.0 x 244.0 cm board; 109.0 x 235.5 x 6.5 cm frame
---
Signature & date
Signed l.r., grey gouache "IF [monogram]". Not dated.
---
Credit
Purchased with funds in memory of Patrick White, Norman Schureck and Susan Chandler 2010
---
Place
Where the work was made
Bribie Island
---
Shown in 4 exhibitions
Exhibition history
---
Referenced in 13 publications
Bibliography
---
Murray Bail, Ian Fairweather, Sydney, 1981, 149,152-153 (colour illus.), 172, 220, 243. cat.no. 146; titled 'Last Supper'; Collection of Daniel Thomas, Canberra
Murray Bail, Ian Fairweather, 'Anak Bayan', pg. 141-157, Sydney, 2009, 143, 147, 148-49 (colour illus.), 150, 156, 238, 255. cat.no. 153; colour plate no. 128; titled 'Last Supper'; private collection, Melbourne
Michaela Boland., The Australian, 'AGNSW sells painting donated by Patrick White', Canberra, 20 Nov 2010.
Michaela Boland., The Weekend Australian, 'Gallery torn about sale of Patrick White's favoured picture', Canberra, 16 Nov 2010.
Tom Heath, Architecture in Australia [vol. 54 no. 4], 'Ian Fairweather retrospective exhibition', pg. 106-107, Sydney, Dec 1965, 107 (illus.).
Mervyn Horton (Editor), Art and Australia, 'Art directory', pg. 141-144, Sydney, Sep 1965, 143 (illus.). Collection: Daniel Thomas; Caption reads: 'The W.D. & H.O. Wills Prize was won this year by Ian Fairweather with one of his finest paintings to date. This success followed soon after the loan exhibition of his paintings since 1934 which circulated amongst the State galleries. This year, too, saw his Drunken Buddha Exhibition of paintings used to illustrate his translation of the Chinese novel of this name'.
Des Houghton., Courier Mail, 'Holy row as Philip Bacon buys Ian Fairweather's 'Gethsemane' for $960,000', Queensland, 27 Nov 2010.
Terry Ingram, The Australian financial review, 'Controversial painting swap', pg. 51, Sydney, 28 Oct 2010, 51.
Macquarie Galleries, Ian Fairweather (1958), Sydney, 1958. cat.no. 1; titled 'The Last Supper'; priced 125 guineas
Barry Pearce, Look, 'Fairweather's last supper - its journey into our collection', pg. 12-13, Sydney, Jun 2011, 12-13 (colour illus.).
Queensland Art Gallery (Curator), Fairweather: a retrospective exhibition, South Brisbane, Jun 1965. cat.no. 52; titled 'The Last Supper'; Collection Daniel Thomas
Katrina Strickland, The Australian financial review, '$1 million fair going for gallery', pg. 3, Sydney, 18 Nov 2010, 3.
Wallace Thornton, The Sydney Morning Herald, 'Retrospective collection by Ian Fairweather', pg. 14, Sydney, 21 Jul 1965, 14.