View More:
---
Artist
Anne Ferran
Australia
10 May 1949 -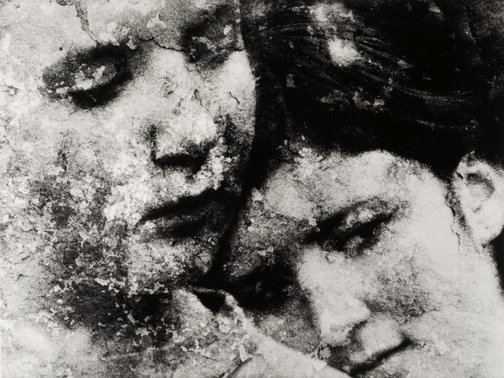 ---
About
These enigmatic and beautiful photographs evoke childhood sensuality, both the sexuality of the subjects, young girls, and a desiring response from the onlooker, whether photographer or viewer. The title suggests burgeoning desire, sexual knowledge and the legal parameters we have constructed around sexuality – the ages and restrictions we have legislated to control sex and desire. Carnal knowledge means sexual intercourse and particularly intercourse with someone under the legal age of consent. Knowledge in these poetic and evocative images is potentially both empowering and limiting as they encapsulate something of the unspoken and unknowable nature of desire. The girls themselves are Ferran's daughter and her friends, adding maternal desire into this suggestive terrain. We are not however offered conventional images of nudes or even objectified bodies; rather the images are close-ups of the girls' faces, often cut across by the frame, incomplete and fragmented so that we see only a sleeping face, a glance or a trace of a smile.
The text panel that accompanies the photographs recounts Ovid's tale of Jupiter teasing Juno by saying 'of course, you women get far more pleasure out of love than men do'. Juno's vengeful denial of this is ripe for feminist reappraisal and Ferran writes, 'I too want to suggest something of the unspeakable of feminine desire …' As with the other photographs in this series, Ferran has overlaid the text panel and the photographs of girls with images of weather-worn stone. This creates a sense of both timelessness and time passed, and gives a sculptural and memorial feeling to the series. They recall ancient temple friezes while still appearing utterly contemporary, aware of their art historical antecedents just as they are manipulated by Ferran to her own ends. These seven photographs are part of an original suite of 13 which comprised Ferran's first solo exhibition at Performance Space in Sydney in 1984 and which were subsequently exhibited in Australian Perspecta 1985, at the AGNSW. They received considerable critical attention and were seen as reflecting prevalent theories about femininity and sexuality, desire and language, particularly as expressed in the writings of theorists such as Michel Foucault, Jacques Lacan and Julia Kristeva.
Ferran's subsequent series have been concerned with history and memory, both the history of photography and representation and the memory of events and lives once lived. She has often sought to image the unknowable, to create photographs which are meditations on past moments and acts which exist at the edge of speculation and the imaginary rather than illustrating documentary fact. In 1995 she undertook a residency with Anne Brennan at the Hyde Park Barracks in Sydney, a former convict barracks and female asylum, and produced a series of photographs of the scraps of fabric, pins and other detritus that had been found under the floorboards as well as a series of ghostly photographs of women's caps, evoking the lives of the women who had lived and died there. More recently she has made photograms of historic women's and children's clothing, and a series of photographs of the sites of Tasmania's convict 'female factories'.
© Art Gallery of New South Wales Contemporary Collection Handbook, 2006
---
Details
---
Media category
---
Materials used
gelatin silver photograph
---
Dimensions
41.0 x 54.8 cm image (irreg.); 47.0 x 60.8 cm sheet
---
Signature & date
Not signed. Not dated.
---
Accession number
186.1986.6
---
Shown in 2 exhibitions
Exhibition history
---
Referenced in 7 publications
Bibliography
---
Judy Annear, What is this thing called photography?, Sydney, 1999. no catalogue numbers
Claire Armstrong, Art and Australia (Vol. 39, No. 3), 'Anne Ferran: seeing through appearances', pg. 436-443, Sydney, Mar 2002-May 2002, 436-438.
Anthony Bond, Look, 'Rehang of Level 2 June 2012', pg.28-30, Sydney, May 2012, 28 (colour illus.), 31.
Ewen McDonald and Judy Annear (Editors), What is this thing called photography? Australian photography 1975-1985, Annandale, 2000, 74 (illus.).
Ursula Prunster, Australian Perspecta '85, 'Transformations' curated, p81-106, Sydney, 1985, 91.
Lynne Seear and Julie Ewington (Editors), Brought to light II: Australian art 1966-2006, 'Articulating the unspeakable: the feminist photography of Julie Rrap and Anne Ferran, pg. 132-139, South Brisbane, 2007, 138 (illus.). NOTE: this is not the AGNSW print
Wayne Tunnicliffe, Contemporary: Art Gallery of New South Wales Contemporary Collection, 'Cultural memory, critical distance', pg.154-203, Sydney, 2006, 157, 167 (illus.).