View More:
---
Artist
Alex Rizkalla
Egypt, Australia
1950 -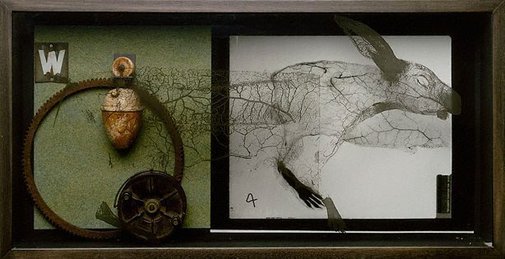 ---
About
Alex Rizkalla was born in Alexandria into a Greek Alexandrian family. In those days Alexandria was one of the most cosmopolitan cities in the world, revealing its long history of African, Ptolemaic and colonial occupations. Rizkalla spoke Greek and English at home and studied in French, as did the majority of Alexandrians in private schools at the time, until they changed to Arabic following Egypt's independence. When the family moved to Australia they left behind a rich and diverse history, although his father saved some of his prized possessions as a material bridge to the past.
The young Rizkalla also became an avid collector of memorabilia, possibly as a way of turning memories into something concrete. As a young man he studied the French existentialists and writers such as the surrealist Georges Bataille. One of the common factors here may have been his research into the nature of memory and objects. In more recent times Rizkalla has made a study of 'Wunderkammer', those collections of marvellous objects that their owners used to surprise and impress their guests and to provide the starting point for imaginative journeys of association.
In 1991 there was a serious fire at Rizkalla's house after which the vast collection of objects and mementos that were stored were rescued as far as possible. At Gertrude Street studios in Melbourne he organised these objects and memories into boxes, as if in a museum storeroom, and called the installation 'Remains/vestiges'. Visitors were allowed to view this collection from behind a barrier but were not able to enter the room. This was a trace of the artist's life that in spite of its apparent order, remained an incomprehensible accumulation of detritus. Rizkalla set out to unburden himself of this very personal history by taking groups of these objects and creating assemblages and framing them in glass cases. These were then dispersed by exhibition and sale (hence 'Remains/vestiges: dispersal') and represent part of this process of divestment.
In a sense, the project was a total failure since his house today is fuller than ever, with little room left for ordinary living. He and his partner negotiate their way between rooms filled with an extraordinary collection of objects – antique projectors, pieces of medical equipment, unusual crockery, bedpans – all part of some kind of history of the human condition waiting to be sorted and unravelled from the excessive accumulation of embodied data.
The transformation of this life habit into art is, however, a continuing project but its boundaries are not clearly defined, that is to say, the life and the art cannot be separated. For the observer there seems at first to be an order to his selections and arrangement of the parts. We may get a sense of differences observed, of possible narratives and yet knowing about the life of the artist does nothing to allow a definitive meaning. Some of his collection is inspired by a particular place and its history and consequently a narrative seems on the verge of coalescing. Yet the objects will always have their own stories and the possibility of coming together differently with contradictory outcomes, not unlike life itself.
© Art Gallery of New South Wales Contemporary Collection Handbook, 2006
---
Details
---
Media categories
---
Materials used
mixed media
---
Dimensions
48.0 x 93.0 x 12.0 cm frame
---
Signature & date
Not signed. Not dated.
---
Credit
Contemporary Collection Benefactors 1994
---
Accession number
184.1994.1
---
Shown in 3 exhibitions
Exhibition history
---
Referenced in 1 publication
Bibliography
---