View More:
---
Title
Durga slaying the buffalo demon Mahisha (Mahishasuramardini)
---
Artists
Unknown Artist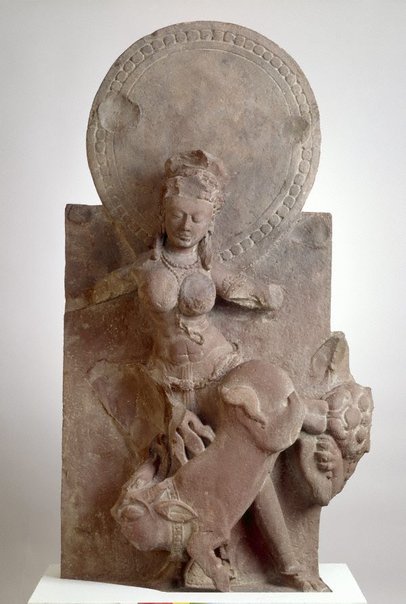 ---
About
According to mythology, the titan ('asura') Mahisha gained such enormous power through the performance of penance that he threatened the stability of the world. The gods, becoming increasingly helpless against him, begged assistance from the goddess Durga and armed her with their combined energies, weapons and powers. Thus empowered, Durga attacked and vanquished the buffalo-headed 'asura'. In this impressive, early representation, Durga attacks Mahisha and with one foot on his neck spears his bovine body with her trident. Durga's lion mount ('vahana') aids her by attacking Mahisha's haunches. The goddess, beautiful and serene, maintains an almost detached calm that belies the enormous drama and significance of her triumph. Although the goddess appears as an invincible Amazonian warrior, to her worshippers Durga is a maternal deity, a mother-goddess and protector of her devotees.
The Asian Collections, AGNSW, 2003, pg. 22.
---
Details
---
Other Title
Durga slaying the titan Mahisha
---
Alternative title
Durga mahishasuramardini
---
Cultural origin
---
Media category
---
Materials used
red sandstone
---
Dimensions
140.0 x 63.5 x 25.0 cm
---
Signature & date
Not signed. Not dated.
---
Credit
Purchased with funds provided by the Art Gallery Society of New South Wales 1999
---
---
Shown in 1 exhibition
Exhibition history
---
The provenance of this work is under review and records will be updated as new details become available. The Gallery welcomes any information. Contact provenance@ag.nsw.gov.au
Provenance
---
Nancy Wiener Gallery, pre 1999, New York/United States of America
---
Referenced in 7 publications
Bibliography
---
Wendy Doniger, Goddess: Divine Energy, 'Durga, slayer of the buffalo demon', pg. 121-128, Sydney, 2006, 123 (colour illus.). cat.no. 76
Jackie Menzies (Editor), The Asian Collections Art Gallery of New South Wales, 'The Realm of the Hindu Gods', Sydney, 2003, 22, 23 (colour illus.).
Jackie Menzies, Look: 1953-2003 celebrating 50 years, 'Asian Treasures', pg. 57-59, Sydney, May 2003, 58 (colour illus.).
Pratapaditya Pal, Orientations, 'Sensuous Spirituality: Hindu and Buddhist Art from the Indic Cultural Realm', pg. 80-87, Hong Kong, Sep 2000, 86 (colour illus.). fig.11
Olivia Prunster, Look, 'Following th puja dancers', pg. 13-14, Sydney, Feb 2006, 15 (colour illus.).
Jill Sykes (Editor), Look, 'Years of enrichment', pg. 12-15, Sydney, May 2009, 13 (colour illus.).
Judith White, Look, 'A year of gifts to the Gallery', pg. 16, Melbourne, Dec 1999-Jan 2000, 16 (colour illus.).